Overview
HOPEX GDPR is a unique solution that enables companies to quickly assess their General Data Privacy Regulation (GDPR) needs, generate required documentation, like the (Data Privacy Impact Assessment) DPIA, and centrally manage compliance initiatives for the entire business.
With HOPEX GDPR you can:
Manage compliance efforts from a collaborative workspace and centralized repository
Inform and accelerate remediation activities with up-to-date regulatory details and legal templates
Document and demonstrate compliance with business process documentation and reports required by the Supervisory Authority
Maintain control over data privacy while improving business processes and applications that put customers at the center
Model business processes that meet regulatory requirements without impacting business agility
Key features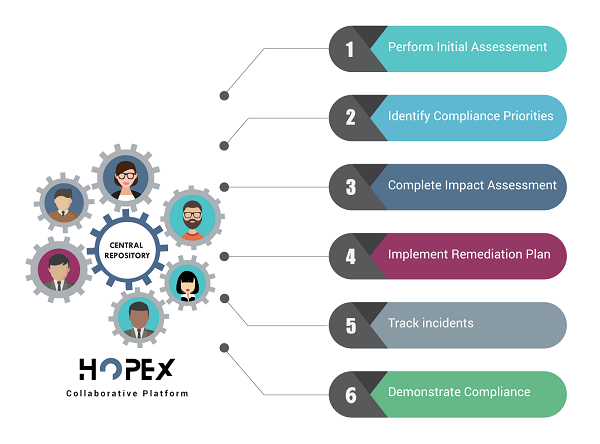 Perform initial assessment: Understand how your organization is impacted by the GDPR and determine which business processes require a Data Privacy Impact Assessment (DPIA)
Identify compliance priorities: Cross-reference data categories and business processes to identify which processes utilize personal data and prioritize compliance actions.
Complete a Data Privacy Impact Assessment (DPIA): Automatically generate a DPIA that includes business process documentation, assessment of the regulatory risks, and description of mitigation measures
Implement remediation plan: Secure processes and applications that control or process personal data without impacting business agility.
Track incidents: Monitor processing activities to track incidents and data breaches and evaluate its gravity.
Demonstrate compliance: Easily produce key reports that prove that all data privacy requirements are met.
Improve decision-making, eliminate silos and foster collaboration with HOPEX GDPR. It is integrated with our HOPEX platform and provides a single, source of truth for all business stakeholders. The enhanced synergies of HOPEX GDPR enable you to meet regulatory demands while advancing business and IT transformation.