Make risk management part of your company DNA
HOPEX IRM (Integrated Risk Management) helps you understand risk context and its impact on the organization by connecting GRC with Business processes, IT assets, and data. With a simple to use and modern user interface, GRC stakeholders can manage risks and prioritize remediation plans in line with business priorities.
Benefits
Reduce risks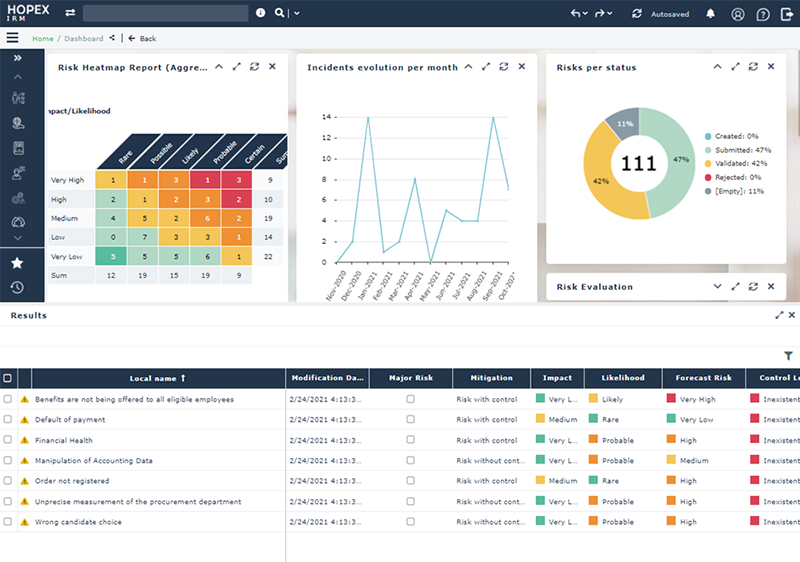 Manage risks holistically to achieve corporate objectives and address uncertainties.
Foster a risk culture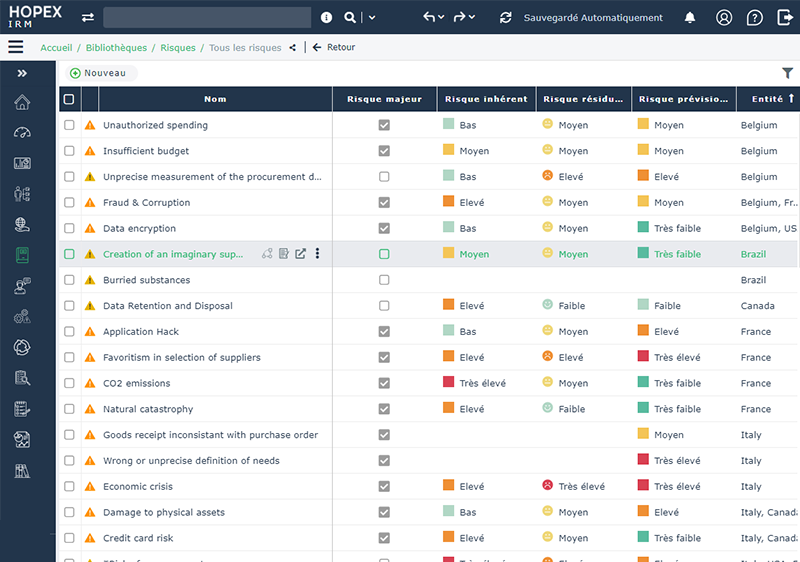 Share a common taxonomy and methodology for a federated GRC approach.
Save costs and time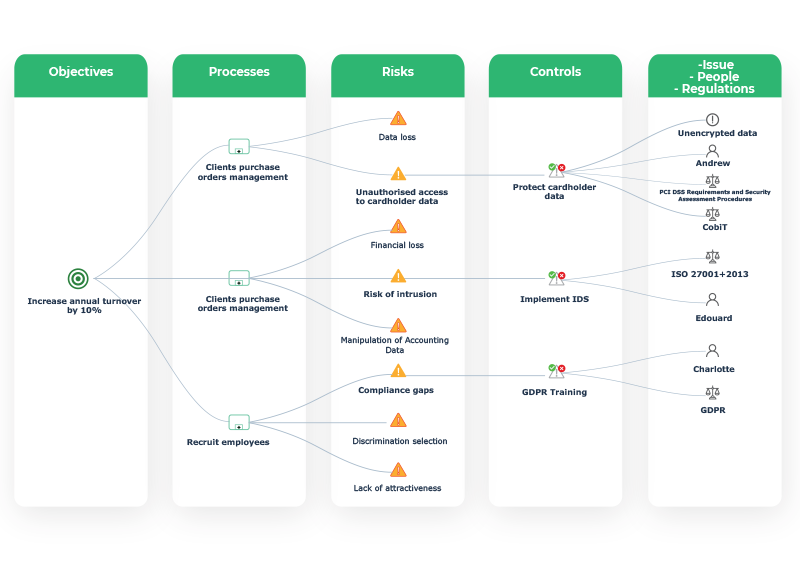 Use intelligent automation to avoid risk and compliance overload and improve resilience.
Capabilities
HOPEX Integrated Risk Management helps to manage risks holistically and ensure compliance while strengthening operational resilience.
Manage risks across the organization on a single repository
Identify, map and manage risks without boundaries
Map risks to organizational structure, processes, controls, IT assets, and objectives
Perform contextualized risk assessment campaigns
Identify, categorize, and analyze incidents and loss events
Get a real time holistic view of your current and expected risk exposure
Ensure compliance and control over internal and external requirements
Implement a robust compliance and control framework
Map controls to organizational structure, processes, risks, regulations, policies, procedures, IT assets, …
Manage control self-assessment and testing campaigns 
Identify issues and follow-up on action plans
Monitor and report in real time on current compliance status
Improve operational resilience to withstand crisis and disruptions
Plan and manage your business continuity strategy
Identify critical business processes with supporting dependencies
Perform Business Impact Analysis (BIA) to determine Recovery Time Objective (RTO) and criticality
Define business continuity plans to manage crisis and plan recovery
Monitor status and progress of business continuity plans in real-time
Make smarter decisions faster with a pragmatic approach
Work as you want using the HOPEX platform to connect business, IT, data, and risks perspectives in a single platform that easily integrates into your digital ecosystem. 
Gain immediate value of your projects
Sign up for a 30-day trial version of the HOPEX platform and demonstrate immediate value of your project.