Strengthen risk management and governance with internal audit
By digitalizing the full audit lifecycle, HOPEX Internal Audit provides assurance professionals with agility and visibility to strengthen risk management and governance. Built to facilitate the planning, execution, reporting, and follow up of audits, HOPEX Internal Audit delivers standardized methodology and best practice workflows.
Internal Audit Benefits
Prioritize activities based on risks and business imperatives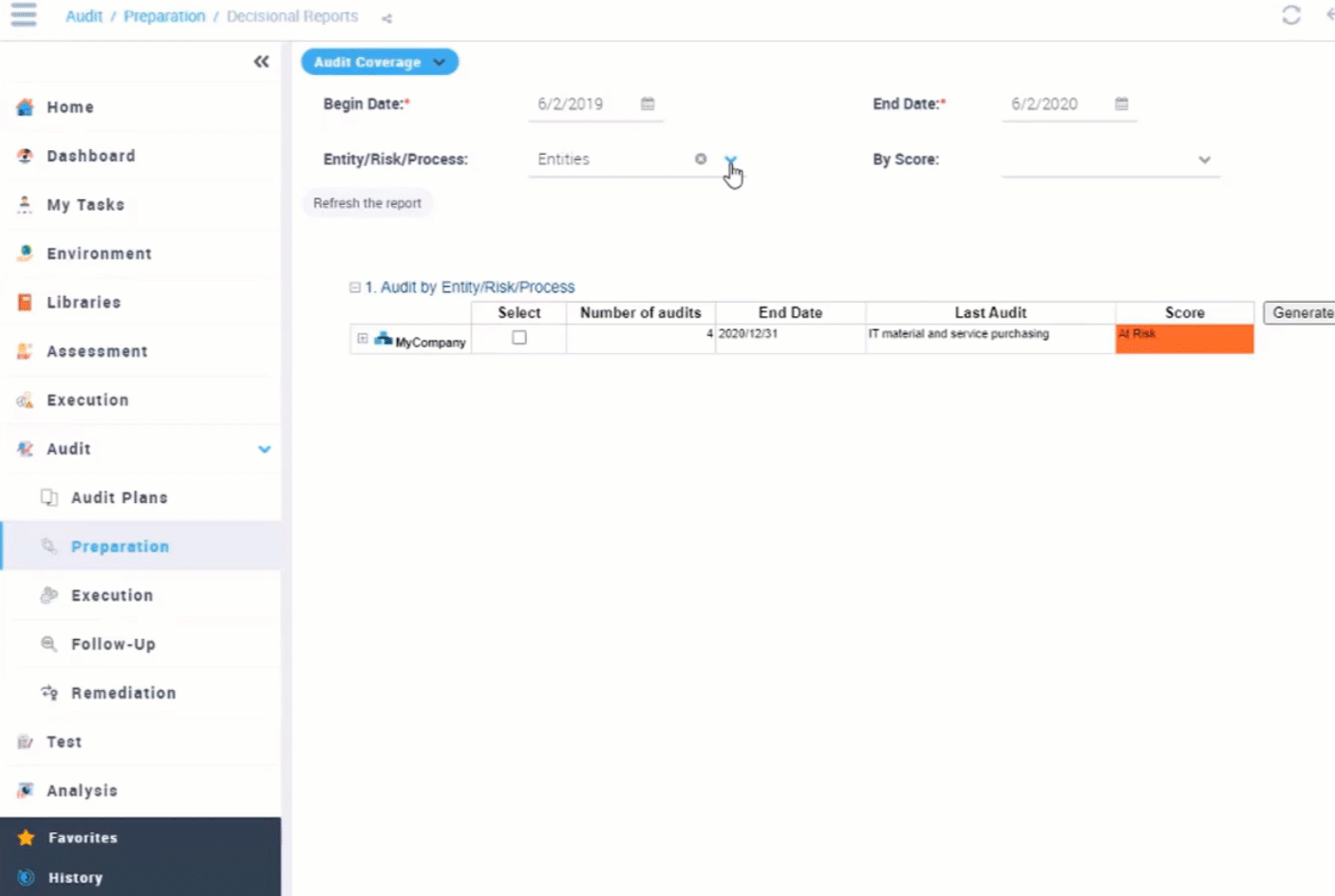 Dynamically visualize risks and controls in context and prioritize audit activities by business objectives.
Enhance audit productivity and standardization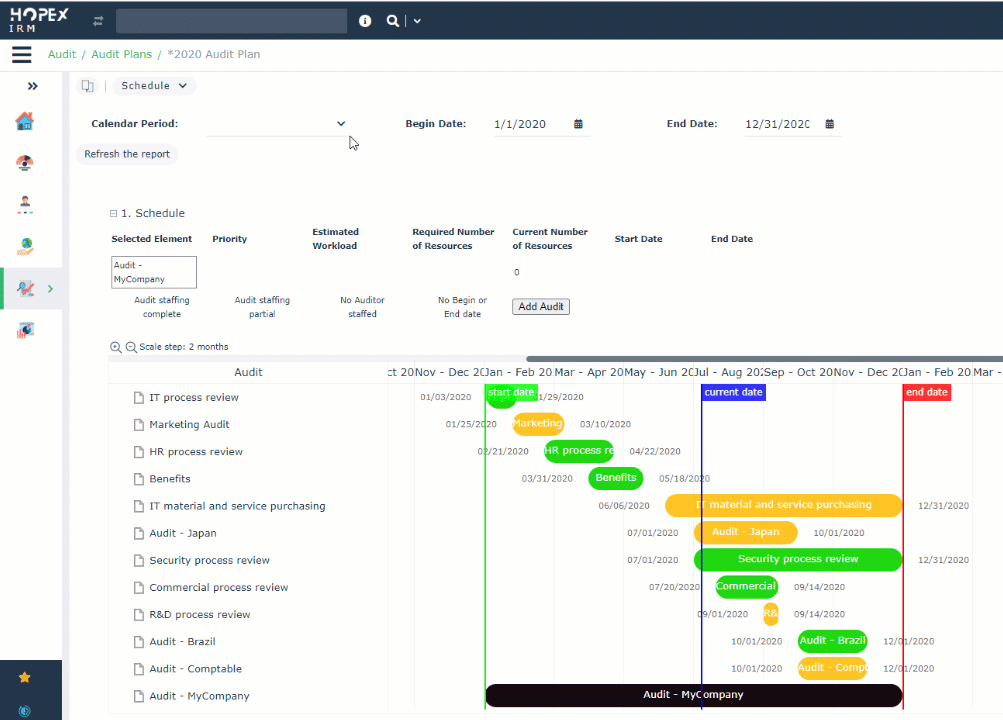 Optimize task assignments and use predefined work programs and workflows to streamline audit execution. Store documentation and evidence on a centralized searchable library.
Report with confidence and evidence to the board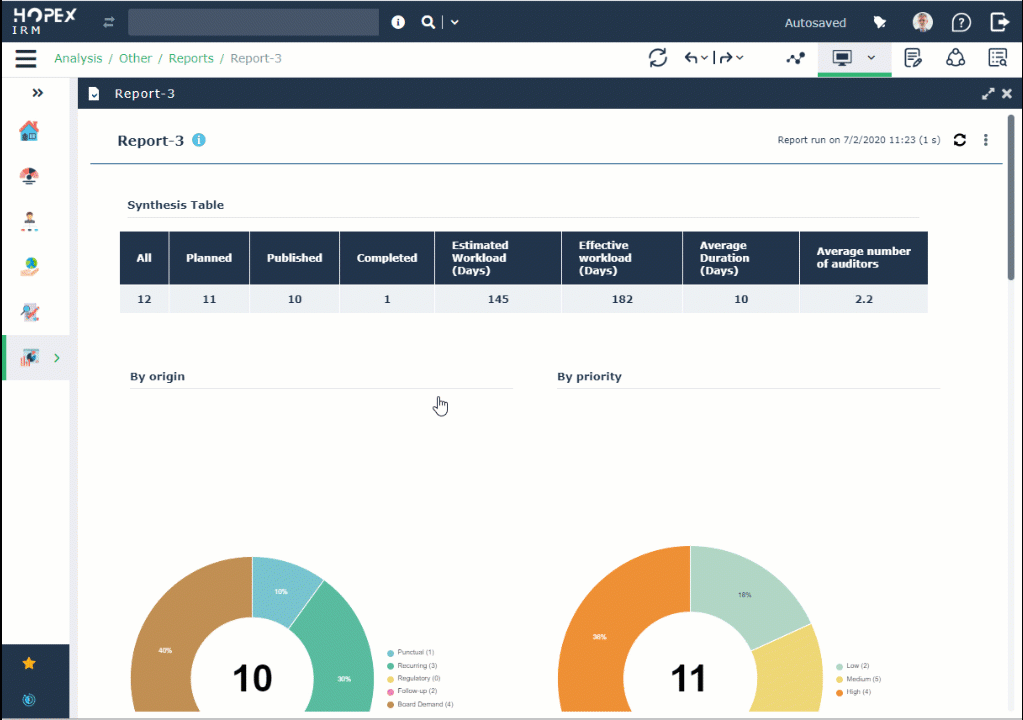 Provide management with smart audit insights and recommendations via ready-to-use dashboards and reports.
Internal Audit Capabilities
HOPEX Internal Audit helps to conduct the full audit lifecycle using a risk-based approach.
Optimize audit coverage and planning
Build a risk-based, dynamic audit plan, aligned with business objectives
Define audit scope based on results of prior audits, risk assessments, and business priorities 
Schedule audits and build audit program libraries 
Assign resources based on auditor skill and availability
Track auditor time and expenses 
Streamline audit execution and reporting
Boost audit fieldwork using standardization and automation
Use digital workpaper management and checklists 
Record findings, issue recommendations, and store evidence on and offline
Review and monitor progress with dedicated dashboards
Approve final audit report and share using automated workflows
Track and follow up audit findings
Deliver strategic value with intelligent findings and recommendations
Review findings and publish recommendations to auditees
Track action plan progress by priority and term 
Manage KPIs using dashboard and customizable widgets
Use smart alerting and out-of-the-box reports
 
Go mobile to simplify your audit management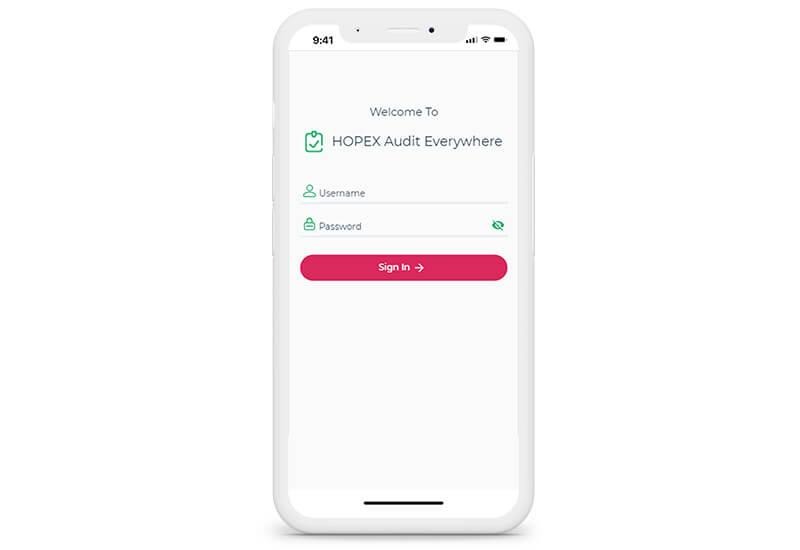 Smart mobile app to improve auditor's productivity
Audit Everywhere is the perfect mobile companion to improve auditor productivity offering the possibility to run and access audit from an easy-to-use interface online or offline.
Make smarter decisions faster with a pragmatic approach
Work as you want using the HOPEX platform to connect business, IT, data, and risks perspectives in a single platform that easily integrates into your digital ecosystem. 
Gain immediate value of your projects
Sign up for a 30-day trial version of the HOPEX platform and demonstrate immediate value of your project.