Capability-based planning of the enterprise transformation with HOPEX Business Architecture
HOPEX Business Architecture allows you to build and assess the enterprise context in which strategic transformations are to occur. It enables you to define a capability-based planning of the enterprise transformation that integrates your corporate strategy, while adapting to your environment over time.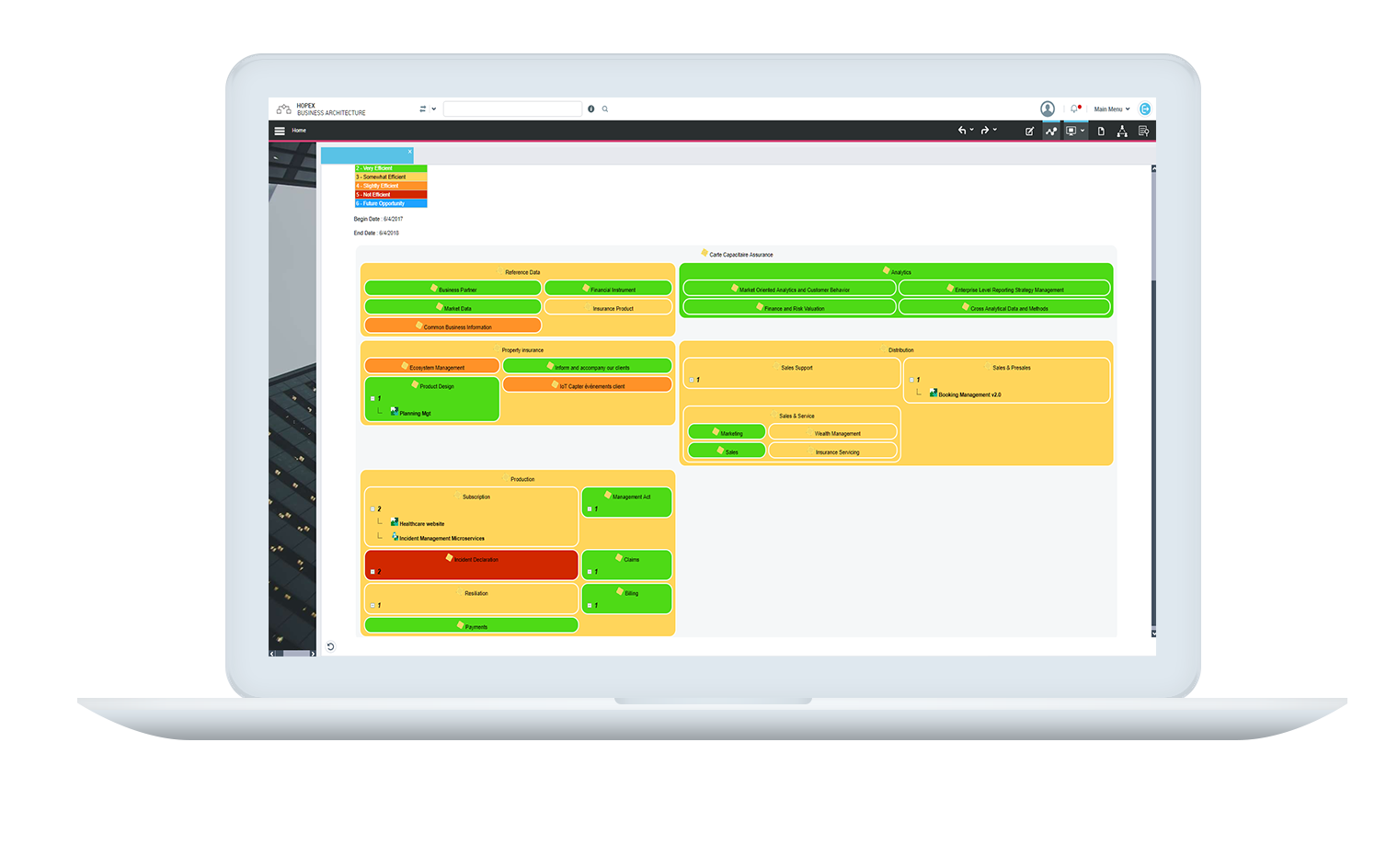 With HOPEX Business Architecture, you can:
Create transparency by capturing the company strategy and associated business objectives
Enable decision makers to design strategy plans that align with market changes
Facilitate strategic trade-offs between business goals and capabilities
Provide a governance framework for strategy execution
HOPEX Business Architecture Key Features
Strategy Definition
HOPEX Business Architecture enables users to define the strategy of an organization and align capabilities to strategy:
Identify transformation drivers (regulatory, business, and architectural)
Perform SWOT analysis of the identified drivers through strategy evaluations
Identify the resulting transformation objectives and position them in the Enterprise Roadmap
Define Strategy and Tactics as part of the Enterprise Roadmap
Business Mapping
The solution allows you to design capability maps, and conduct capability assessments:
Map business capabilities, business skills, and functionalities
Automate the creation of  diagrams through the "Easy Diagram" feature
Define business operating model through business function diagrams and functional processes
Achieve correspondence between capabilities and business operating model
Assess capabilities through standard or custom criteria
Define KPIs and identify areas of improvement
Planning: Transformation Road Mapping
The solution enables you to define the enterprise roadmap and align your capabilities with your strategy to make sure your organization is heading into the right direction. Once you have planned your capabilities, you can build the projects and deliverables to support them. Projects are linked to capabilities so you can easily understand the impact on the business architecture. Within projects, you can define costs, benefits, risks, create a business case, set a timeline, and more. You can group and prioritize projects using portfolios. You can also build transformation scenarios based on a mix of projects and compare them according to various criteria.
Additionally, stakeholders can submit new ideas to improve business performance. Ideation campaigns can also be initiated by business leaders to collect new ideas. Ideas can be attached to capabilities, and converted to projects once approved.
Define enterprise milestones and enterprise transformation stages
Position transformation objectives, courses of action as well as capability maps and business operating models within the Enterprise Plan
Assess your capabilities over time against your strategy plan
Build projects and project portfolios to transform business capabilities
Define project deliverables, costs, risks, expected benefits, lifecycles and milestones
Create ideation campaigns to request the submission of ideas from various stakeholders
Rank and compare ideas, projects, and project scenarios through various reports
HOPEX Business Architecture is integrated into MEGA's single platform. That means you get enhanced synergies for advancing your business and IT transformation, as well as a clear, common view of key information about your organization.