IT Rationalization and Business-IT Alignment with HOPEX IT Portfolio Management
HOPEX IT Portfolio Management enables IT professionals to create a complete inventory of their IT assets, including applications, underlying technologies, and servers.
Through the use of various reports, IT professionals can evaluate IT assets using multi-criteria analysis such as costs, risks, technical efficiency and business value, and bring visibility to their IT portfolio.
They can easily create collaborative evaluation questionnaires so critical information such as business value or technical efficiency is always up-to-date. They can understand dependencies and identify redundancies of their IT systems while reducing costs and complexity. To transform their IT assets, IT professionals can create projects and build transformation scenarios that combine a mix of projects. They can compare different scenarios based on various criteria and select the most relevant scenario for their business needs and constraints.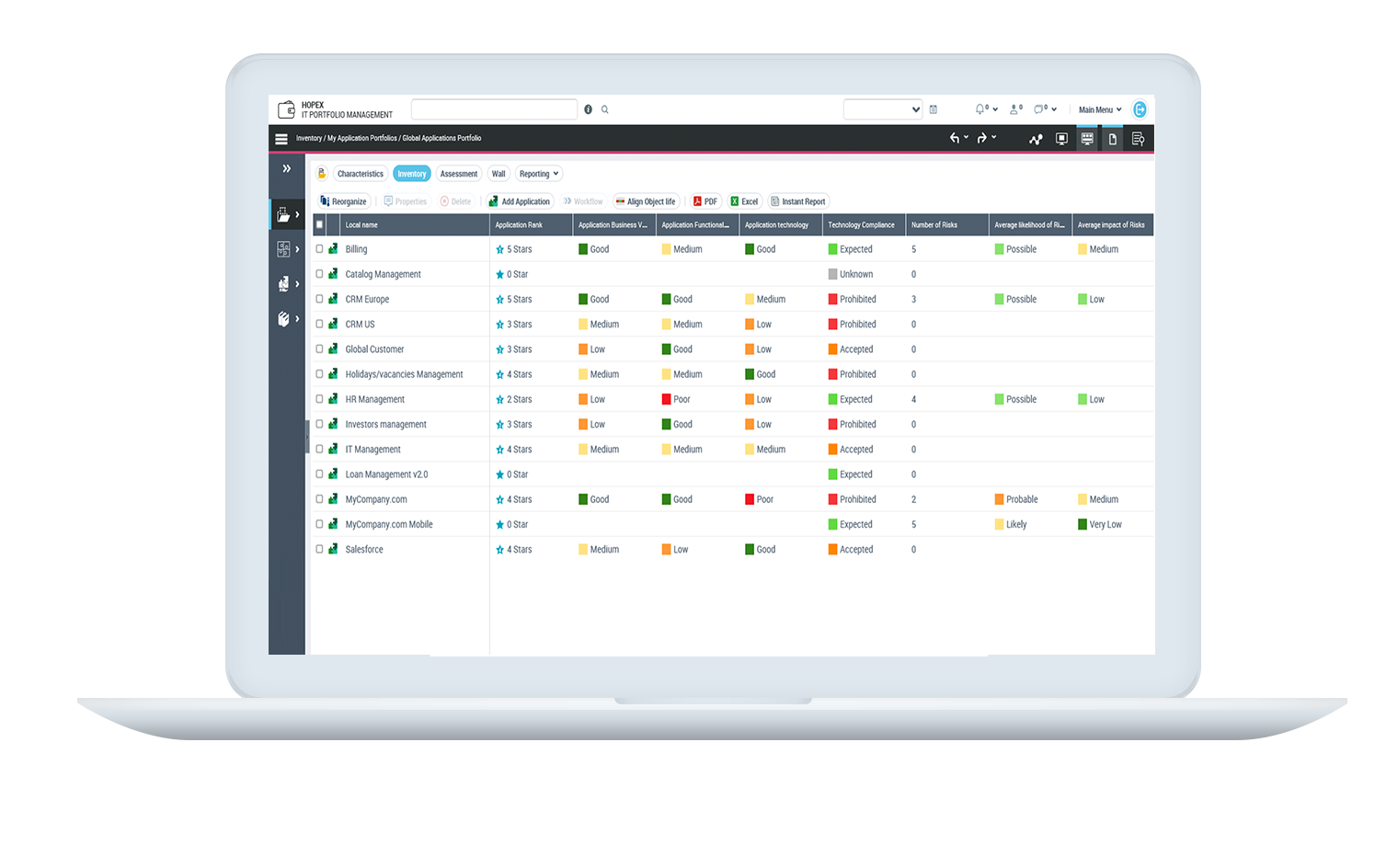 HOPEX IT Portfolio Management main benefits
Reduce complexity and bring visibility to your IT assets
Cut costs and save on future investments
Transform the IT portfolio while anticipating business and technology risks
Support new business initiatives through greater flexibility
HOPEX IT Portfolio Management key features
Inventory: Collecting data and setting up an IT asset repository
Automate IT data imports via pre-built Excel files, CMDB interface, and APIs
Crowdsource data collection to stakeholders through a collaborative platform
Build IT asset ID Cards including ownership, functional scope, technology, lifecycle, risks, costs, and other custom criteria
View IT assets by business lines, business processes, business capabilities, organizational units and technology vendors
Evaluation: Analyzing data and assessing the IT asset portfolio
Assess IT assets through the analysis of multiple criteria using out-of-the-box or custom reports
Break down costs by type (CAPEX, OPEX) and by nature (manpower, license, service, infrastructure)
Streamline technology performance through reports on technology obsolescence, compliance levels and vendor dependency
Evaluate IT assets by business value, functional support and technical efficiency through the use of IT portfolio evaluation campaigns
Optionally integrate third-party solutions to provide other evaluation perspectives such as risks tied to software code, cloud readiness and technology lifecycle
Transformation: Building and comparing transformation projects, submitting ideas
Identify and prioritize projects to rationalize the IT landscape
Create project portfolios
Build multiple scenarios by accepting or rejecting projects
Compare scenarios using various criteria such as risk on deadlines and costs
Perform multiple what-if analysis, and determine which scenario to implement
Improve IT Portfolio performance by collecting ideas from various stakeholders
HOPEX IT Portfolio Management is integrated into MEGA's single platform. That means you get enhanced synergies for advancing business and IT transformation, as well as a clear, shared view of key information about your organization.
The solution optionally integrates Flexera Technopedia to provide up-to-date software lifecycle information to help track technology obsolescence, and Cast Highlight to assess cloud readiness and technical debt through software code analysis.