HOPEX Privacy Management software: Assess and ensure compliance to GDPR, CCPA and global privacy laws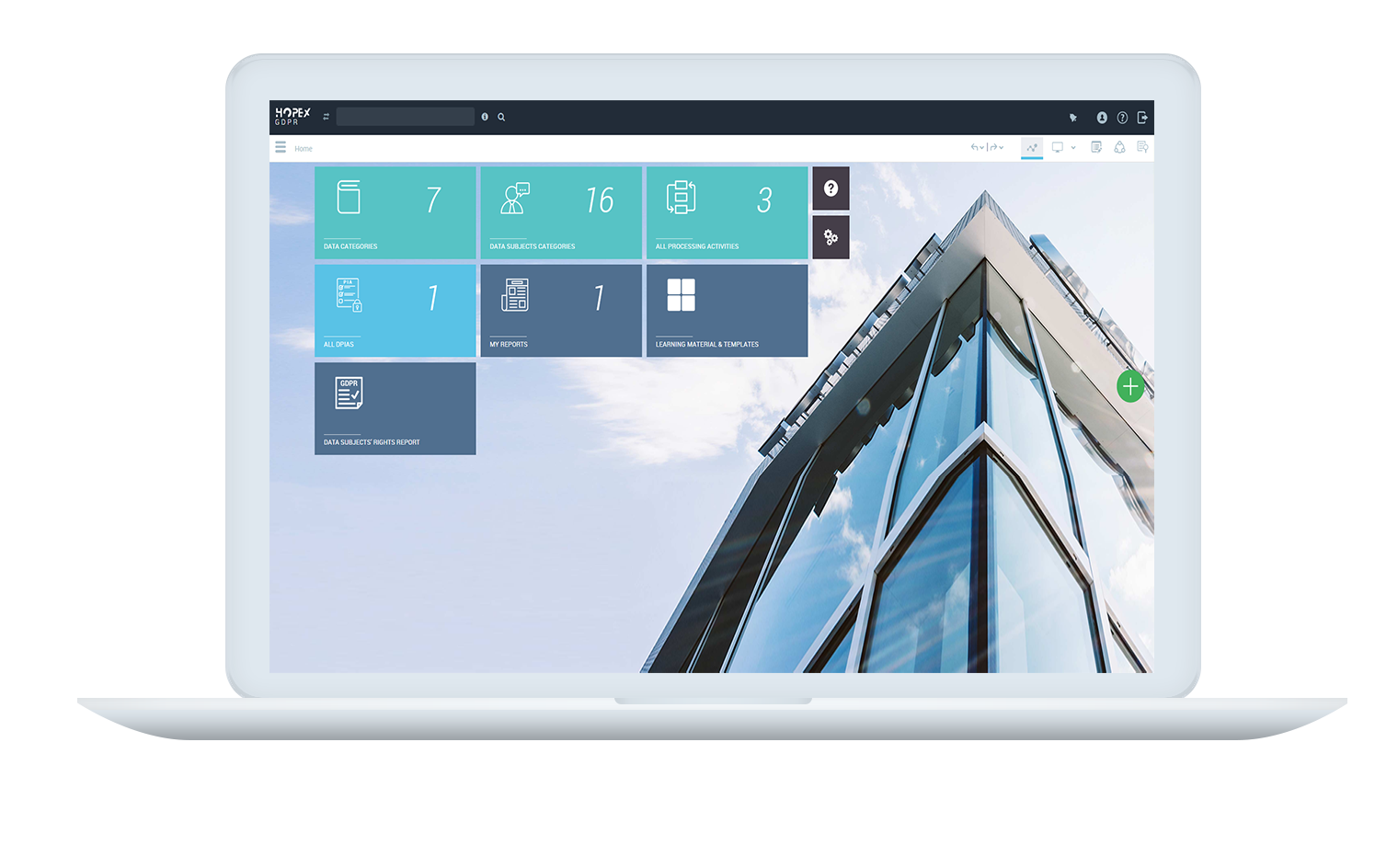 HOPEX Privacy Management software provides a collaborative workspace for DPOs and cross-functional stakeholders to manage a data protection compliance initiative. This solution gives you the right tools to understand how your organization complies with global privacy laws, to implement the needed changes and automatically produce documents required by the regulator. The methodology has been developed with Gruppo IMPERIALI, who brings more than 30 years of Data Protection legal expertise. HOPEX Privacy Management integrates up-to-date regulatory details and legal templates to accelerate your remediation plans.
With HOPEX Privacy Management software you can:
Manage compliance efforts from a collaborative workspace and centralized repository
Inform and accelerate remediation activities with up-to-date regulatory details and legal templates
Document and demonstrate compliance with a full range of reports designed for the Supervisory Authority
Maintain control over data privacy with Data Protection Impact Assessments
Influence privacy by design efforts and know when to assess new and evolving processing activities
HOPEX Privacy Management Software Key Features
Description of Data Processing Activities
HOPEX Privacy Management software allows your company to create and describe activities processing Data Subject information:
Identify processes or applications handling sensitive data categories
Specify categories of involved data subjects and legal basis for processing
Assign DPOs and owners to processing activities to coordinate compliance efforts
Carry out a preliminary compliance assessment
Data Protection Impact Assessments (DPIA)
Our privacy management software allows your company to conduct a DPIA whenever required
Prioritize processing activities by risk scale and compliance level
Define which processing activities require a DPIA and which do not need it
Document and assess risks affecting the rights and freedoms of data subjects
Issue recommendations to address identified risks and threats
Track implementation of recommendations
Data Breach Incidents
HOPEX Privacy Management software allows you to not only capture data breaches, as required by the regulation, but also to analyze them:
Document breaches with dates of discovery and actual breach, nature, origins, consequence, data categories affected
Capture remedial actions and whether regulators and affected individuals have been informed
Investigate causes of data breach by comparing current with past DPIAs
Ensure notification deadlines are respected by counting days since discovery
Data Subject Requests
Our privacy management software not only makes centralization of Data Subject Requests possible but also ensure they are answered within 30 days:
Enable external stakeholders to raise Data Subject Requests
Specify the Processing Activities concerned and the Data Controllers responsible for answering requests
Keep informed of requests' progress
Analyze your organization's efficiency at responding to requests within regulatory deadlines
Reporting & Analysis
All the information captured in HOPEX Privacy Management software is presented in a range of useful reports:
Record of processing activities – generates a Word editable report for easy distribution to stakeholders
DPIA Document – provides full description of the processing activity data protection risk assessment
Data Transfer Map – to view what data categories for what data subjects, where from and to, on a world map
Subject Rights Report – to assess if compliance for all data subjects has been achieved on all processing activities
Data Category Heatmap – table describing data categories, their risk scale, as well as processing activities, status of pre-assessment, whether a DPIA has been carried out and overall compliance level
Data Subjects' Requests – to display all existing data subjects' requests and ensure timely reaction
Data Breaches – to assess data breaches within the 72-hours timeline 
Freshness & Priority Indicators – automatically calculated based on last date of assessment and overall impact rating
HOPEX is our comprehensive lineup of integrated software bringing together industry-leading practices in enterprise architecture (EA), IT portfolio management (ITPM), business process analysis (BPA), and integrated risk management (IRM) into a single platform. Integrated into a single enterprise repository, our HOPEX solutions give you an interactive view of all your business and IT components – including their dependencies – and help you drive business and IT transformation.