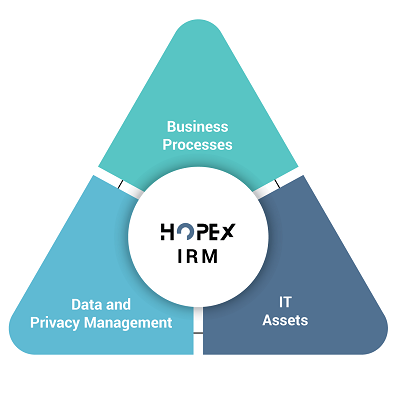 Remove silos with an integrated collaborative platform
Our Integrated Risk Management solutions help you move from a check-in-the-box compliance approach - that may not protect your company as you intended - to a risk-aware culture. They facilitate risk awareness across your organization by leveraging our HOPEX single platform that provides you with an integrated view of risks, controls, incidents, compliance and audit with business operations, so that risk is treated as a whole and not in silos. 
Better understand risk context and impact
Our HOPEX platform ties together risks, business processes, IT assets, data and privacy management enabling you to get a better understanding of the risk context and the impacts due to an evolving regulatory environment or changing business needs. 
Implement a true risk-aware culture in your organization
Risk managers, controllers, compliance officers and auditors, as well as data privacy officers and operational teams can combine their efforts simultaneously to manage risks in a comprehensive way and mitigate risk efficiently. They can reduce the overall risk exposure of your organization by taking advantage of a consolidated information on risks, working collaboratively on shared mitigation plans, and implement a true risk-aware culture in your organization.