The Total Economic Impact™ Of MEGA's HOPEX Solution for IT Portfolio Management – As deployed and used by a large financial services provider
Many large organizations struggle with the increasing complexity of their application landscape. They often do not have an enterprise wide view of their application and technology portfolio. Costs for maintaining the existing systems and equipment are constantly increasing, while the business expects IT to provide a more agile environment and be better aligned to business priorities. Digital transformation tends to increase the pressure for more agility, more simplicity for innovation, and more effective optimization of running costs.
We commissioned Forrester Consulting to conduct a Total Economic Impact™ (TEI) study to examine the potential return on investment (ROI) businesses may realize by deploying MEGA's HOPEX IT Portfolio Management (ITPM) solution. The purpose of this study is to provide you with a framework to evaluate the potential financial impact of our solution on your organization.
To better understand the benefit to cost ratio associated with an ITPM implementation, Forrester interviewed a large financial services provider with multiple years of experience using HOPEX IT Portfolio Management.
For a quick, at-a-glance snapshot, check out the infographic below on the benefits of implementing HOPEX IT Portfolio Management at a financial services provider, and download the complete TEI report for a deep dive into how all of this success was achieved.
Click on the image to download the infographic :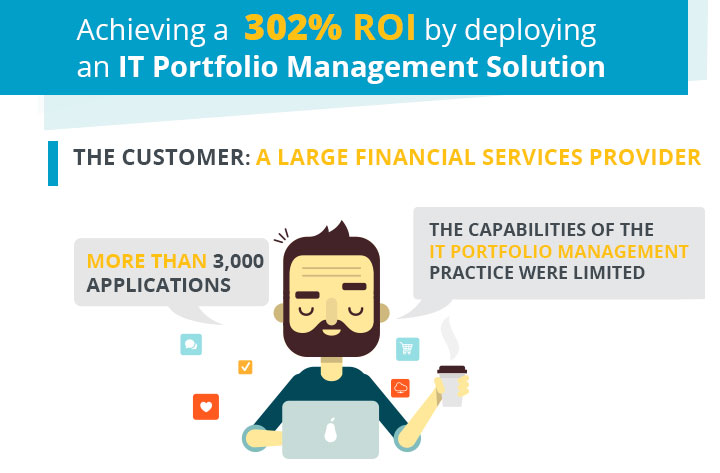 About Forrester Consulting
Forrester Consulting provides independent and objective research-based consulting to help leaders succeed in their organizations. Ranging in scope from a short strategy session to custom projects, Forrester's Consulting services connect you directly with research analysts who apply expert insight to your specific business challenges. For more information, visit forrester.com/consulting.