BOSTON/PARIS – MEGA International, a global software company, today announced the launch of HOPEX Data Governance, a new solution part of MEGA's next-generation Data intelligence platform empowering organizations to govern data as a strategic asset. HOPEX Data Governance is a collaborative platform ensuring that all business and data stakeholders share the same knowledge. It enables business analysts to understand and trust their data to make impactful business decisions to drive business growth.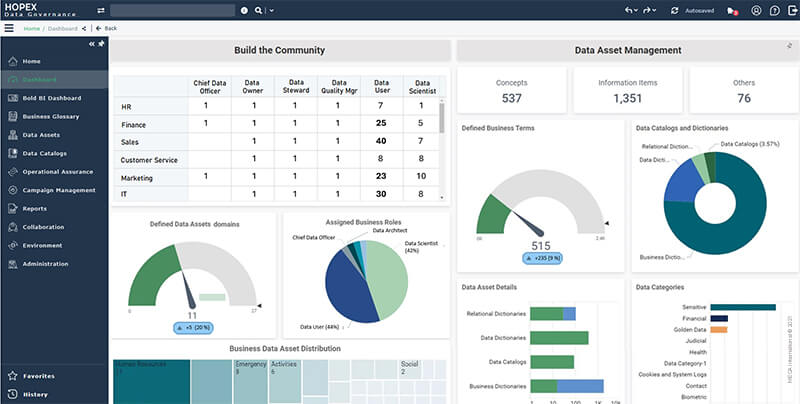 MEGA's HOPEX Data Governance tool allows organizations to:
Gain visibility into their data – Build and leverage automatically created data catalogs and business glossaries to improve business efficiency
Ensure data integrity – Assess and remediate data quality and understand how data is captured, consumed, and transformed with data lineage
Guaranty data compliance – Enforce data policies across the organization and accelerate compliance by managing regulation changes
Increase business value – Support new data-driven business models and quickly identify the business value of data
Foster collaboration – Facilitate communication between all stakeholders through a shared repository
"Today's data regulations require a sophisticated level of monitoring and policing of data which is extremely challenging for many organizations now facing increased risk of fines due to non-compliance," says Luca de Risi, Chief Operating Officer for MEGA. "HOPEX Data Governance empowers companies to be the master of their data and know with certainty where their data comes from, how it is used, stored, and transformed, and that they are compliant with data regulations and privacy policies."
HOPEX Data Governance easily connects with multiple data sources and third-party solutions to quickly build data repositories and provide strong data modeling capabilities. The solution supports all data stakeholders and promotes data literacy for all employees.
With HOPEX Data Governance, Chief Data Officers benefit from synergies with enterprise architecture, business process management, and governance, risks, and controls to better understand how data is managed, exchanged between applications, used in business processes, and complies with regulatory requirements.
About MEGA
Founded in 1991, MEGA International is a global software company and a recognized market leader. The company partners with customers to improve governance and accelerate transformation by leveraging technology. MEGA helps companies better analyze how they can operate and make the right decisions to accelerate the creation of value. The HOPEX Platform connects business, IT, data, and risk perspectives in a single place that integrates across an entire company's ecosystem. The MEGA Services team partners with customers to deliver projects with a pragmatic approach.