BOSTON/PARIS - MEGA International, a global software company, has been recognized as a Technology Leader in the SPARK Matrix™: Governance, Risk, and Compliance (GRC) Platforms, 2021 report published by Quadrant Knowledge Solutions. The report identifies MEGA as one of the top performers that provides "a comprehensive technology platform with a wide range of modular solutions and strong GRC functionalities to help organizations improve the efficiency and effectiveness of their risk and compliance management processes."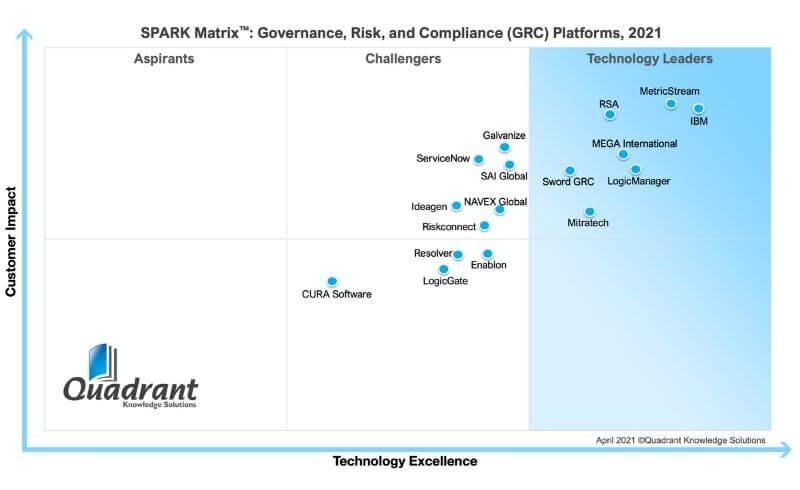 Quadrant Knowledge Solutions conducted an in-depth analysis of GRC platform vendors by evaluating their products, market presence, and customer value proposition. The evaluation is based on primary research with expert interviews, analysis of use cases, and Quadrant's internal analysis of the overall market. MEGA has been positioned amongst Technology Leaders Quadrants.
Divya Baranawal, Research Director at Quadrant Knowledge Solutions says, "MEGA International offers comprehensive enterprise governance software HOPEX that integrates business, IT, data, and risk perspectives. The HOPEX platform, powered by algorithmic intelligence offers a fully web-based UI, open API, multiple OOTB integrations, along with robust reporting and mobility support." Divya further adds, "With its robust technical competencies and impressive customer reference, MEGA International has secured strong ratings across the performance parameters of technology excellence and customer impact and has been positioned amongst the technology leaders in the 2021 SPARK Matrix of GRC Platforms market."
Through a single shared collaborative and integrated platform, MEGA's HOPEX solution creates a synergistic environment to support all stakeholders involved in digital business transformation, risk management, data privacy management, and data governance. With the benefit of MEGA's multi-user platform, risk, compliance, and audit management are centralized, while accountability is distributed to the appropriate stakeholders, providing organizations with a 360-degree view of their business operations to manage their risk and compliance initiatives with clarity and confidence.
"A well-managed governance, risk and compliance strategy is essential in today's highly digitalized and distributed environment to help companies reliably achieve their objectives while addressing uncertainty, and act with integrity according to the OCEG GRC definition" explains Luca de Risi, COO of MEGA. "MEGA's holistic approach strives to help companies successfully optimize or transform their digital business initiatives and accelerate transformation projects while being mindful of risks and threats. Our integrated GRC platform is robust, flexible, and scalable making risk and compliance initiatives easy to implement, manage, and adaptable in a dynamic environment."
MEGA's HOPEX modern UX design innovatively combines IT, data, business process, and risks perspectives into one single platform delivering a true solution for Integrated Risk Management (IRM).
Download a complimentary copy of the SPARK Matrix™: Governance, Risk, and Compliance (GRC) Platforms, 2021
About MEGA
Founded in 1991, MEGA is a global software company and recognized market leader for over ten years. The company partners with customers to improve governance and accelerate transformation by leveraging technology. MEGA helps companies better analyze how they can operate and make the right decisions to accelerate the creation of value. The HOPEX Platform connects business, IT, data, and risk perspectives in a single place that integrates across an entire company's ecosystem. The MEGA Services team partners with customers to deliver projects with a pragmatic approach.