Turn your data into a strategic asset
We provide Chief Data Officers with data governance tools to help organizations understand their data, implement data governance, and manage data privacy and compliance.
Our data governance tools are built on a collaborative platform to ensure all business and data stakeholders share the same knowledge. Our software enables Business Analysts to understand and trust their data to make impactful business decisions and drive business growth.
Built on a single platform, the solutions benefit from unique synergies with enterprise architecture, business process management and governance, risk management, and compliance to understand how data is used in applications and business processes and if it complies with the applicable regulations.

Data Governance Software
Manage your data governance from strategy to execution to support business transformation. Visualize how your data community operates in an interactive map, analyze its impacts and dependencies, and enable business users and data actors to collaborate and access the necessary data to execute business transformation.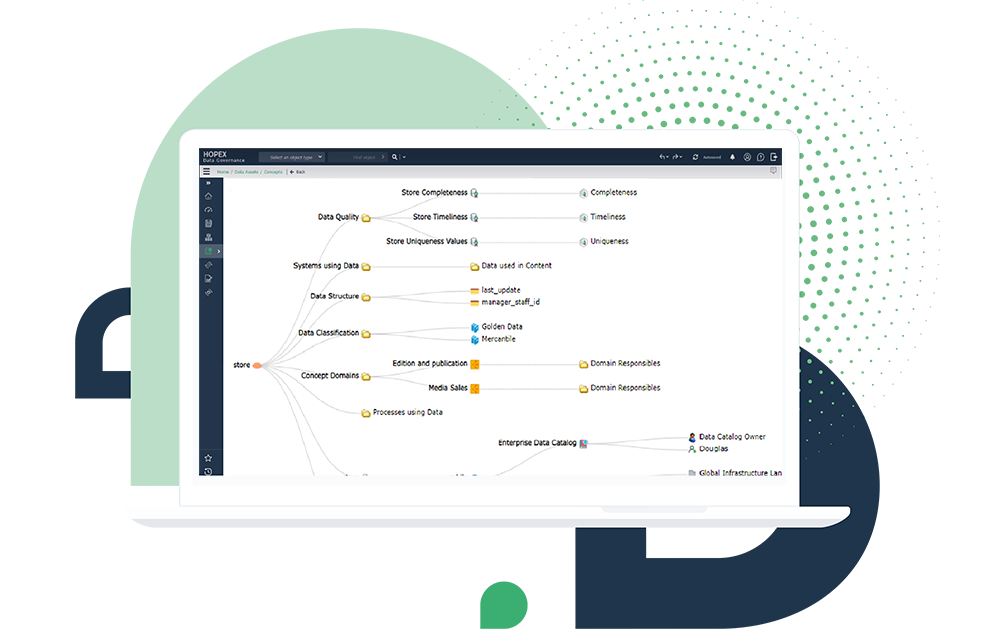 Data governance core capabilities
Data catalog
Automatically create a data catalog by discovering and documenting any metadata.
Data compliance
Accelerate data compliance and assess data quality.
Data architecture
Automatically create data models from physical databases and reverse engineer into conceptual models.
Business glossary
Create a shared business language for the whole company.
Privacy management
Assess and comply with global data privacy laws.
MEGA HOPEX Platform for enterprise data governance
Simplify collaboration and ensure alignment, collect, and analyze information, and get actionable insights with a smart, automated, and connected platform.
Smart: Enable data-driven decisions
Make data-driven decisions, get actionable insights, and share visibility across the organization's teams using a collaborative enterprise portal and mobile apps.
Automated: Accelerate your project delivery
Accelerate Data Office operations with data discovery that automatically creates data catalogs and business glossaries, thereby improving productivity and reducing time-to-value.
Connected: Improve collaboration and alignment
Improve collaboration, develop synergies, avoid duplicative efforts, and ensure stakeholder alignment on strategic objectives by connecting data with strategy, business, IT, and risk perspectives on the same platform.