Enhance operational resilience using integrated risk management
We provide Risk, Compliance, and Audit professionals with a simple to use and modern user interface, to manage risks, compliance requirements, and audits in real time using a collaborative and streamlined approach to enhance operational efficiency and resiliency.
Our Governance, Risk and Compliance (GRC) solutions provides visibility across business processes, IT assets, and data in one GRC platform presenting risks in 360° view context to increase the efficiency and velocity of risk identification and management.

Governance, Risk Management and Compliance solutions
Identify and manage risks, implement, and test a compliance framework, streamline, and improve audit processes to foster a governance of ethics and integrity.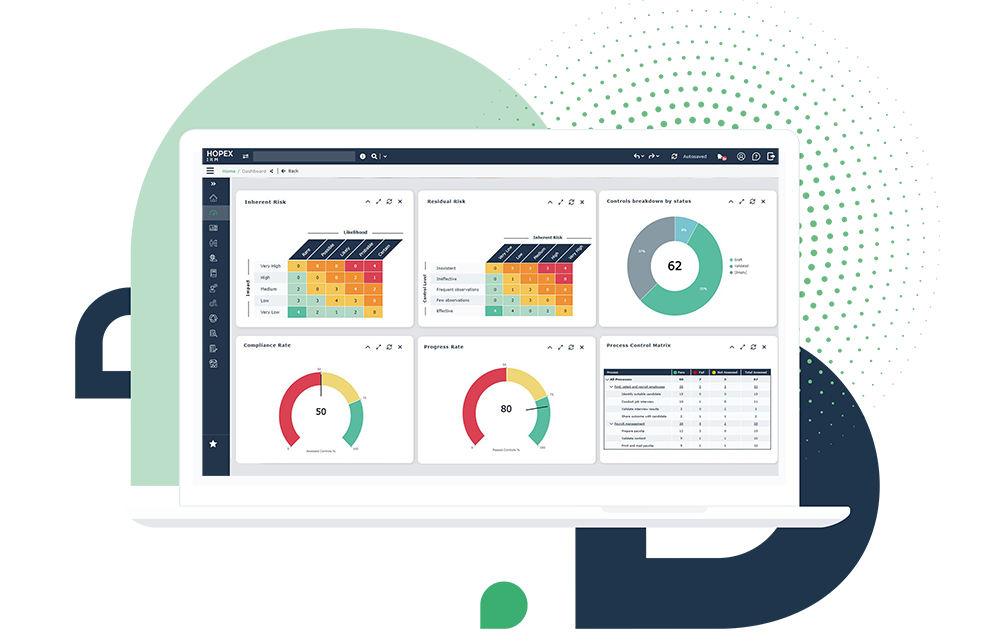 Governance, risk and compliance core capabilities
Risk Management
Manage your risks across business processes, applications, and data.
Compliance and Internal Control
Ensure compliance with internal and external requirements.
Internal Audit
Conduct the full audit lifecycle using a risk-based approach.
Business Continuity Management
Strengthen operational resiliency to withstand crisis.
MEGA HOPEX Platform for governance, risk and compliance
Simplify collaboration and ensure alignment, collect, and analyze information, and get actionable insights with a smart, automated, and connected GRC platform.
Smart: Get data-driven insights based on algorithms
Make data-driven decisions via an intuitive UX and based on calculated risk indicators to sharpen your risk analysis using inputs from IT and Process teams.
Automated: Accelerate the delivery of your projects
Strengthen resiliency and drive swift remediation using intelligent workflows and automated assessment campaigns that enable continuous control monitoring.
Connected: Improve collaboration and alignment
Use 3rd party connectors, built-in collaboration capabilities, and mobile apps (available on-line or off), to foster communication and identify synergies that enable stakeholder alignment.