BOSTON/PARIS – MEGA International, a global software company, has been recognized as the top number 1 software vendor in the Data Quadrant Report on Enterprise Architecture published by Info-Tech Research Group in January 2022. The report identified 28 enterprise architecture vendors in the marketplace then narrowed down the list to the top 10 products and ranked those based on 123 end user reviews. MEGA achieved the highest aggregated satisfaction score on the following criteria: User Satisfaction Rankings, Business Value Scores, Vendor Capability Comparisons, and Individual Feature Evaluations.
Contrary to other popular reports, Info-Tech's Data Quadrant report ranks software vendors based on customer reviews and not on the opinion of analysts. The Data Quadrant Report is designed to help prospective purchasers make better informed decisions by leveraging the experiences of real end users. The data in this report is collected from customers, verified for authenticity, and compared to similar tools to create a holistic, unbiased view of the product landscape.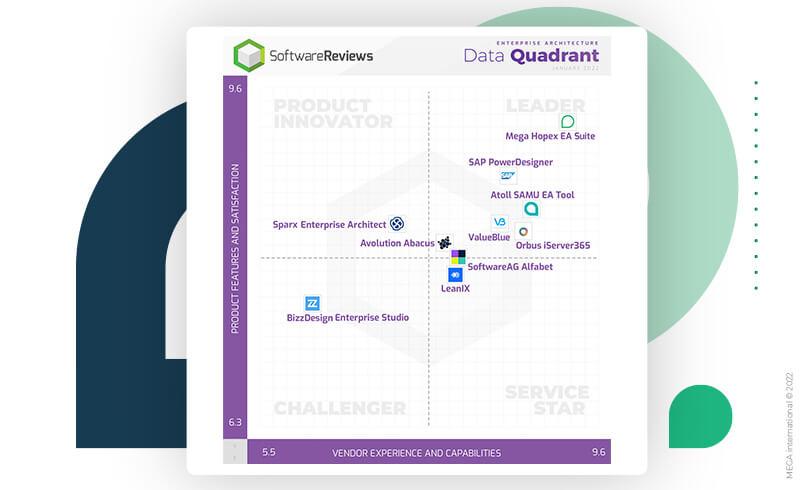 The Data Quadrant Report ranks MEGA the overall Leader of product performance within the Enterprise Architecture category.
According to the report, "Products are ranked by a composite satisfaction score that averages four different areas of evaluation: Net Emotional Footprint, Vendor Capabilities, Product Features, and Likeliness to Recommend. The Net Emotional Footprint Score measures user emotional response ratings of the vendor (e.g., trustworthy, respectful, fair)."
MEGA's HOPEX platform ranked #1 in the following categories:
Business value created
Breadth of features
Quality of features
Product strategy and rate of improvement
Usability and intuitiveness
Ease of administration
Ease of implementation
Analytics and reporting
Collaboration
Data visualization
Process architecture
Project management
Repository management
Risk and fraud assessment
Software distribution
Document management
PCI and EMV compatible
Performance management
"Our ranking as a Leader in this report is extra special because it reflects the views of real end users," explains Luca de Risi, COO of MEGA. "We're successfully helping customers build powerful enterprise architecture practices that improve business performance, accelerate growth, and contribute to a future-proof organization,"
Through a single shared collaborative and integrated platform, MEGA's HOPEX solution creates a synergistic environment to support all stakeholders involved in digital business transformation, risk management, data privacy management, and data governance. With the benefit of MEGA's multi-user platform, risk, compliance, and audit management are centralized, while accountability is distributed to the appropriate stakeholders, providing organizations with a 360-degree view of their business operations to manage their risk and compliance initiatives with clarity and confidence.
About Info-Tech Research Group
Info-Tech Research Group is one of the fastest growing full-service research and analyst firms in North America, serving more than 30,000 IT and HR professionals. With offices in Canada, U.S. and Australia, Info-Tech Research Group offers pragmatic analyst insights and actionable tools to IT departments from world-class organizations such as NASA, New Balance, Spotify and the United Nations. Info-Tech Research Group's divisions include McLean & Company and SoftwareReviews.
About MEGA
Founded in 1991, MEGA is a global software company and recognized market leader for over ten years. The company partners with customers to improve governance and accelerate transformation by leveraging technology. MEGA helps companies better analyze how they can operate and make the right decisions to accelerate the creation of value. The HOPEX Platform connects business, IT, data and risks perspectives in a single place that integrates across an entire company's ecosystem. The MEGA Services team partners with customers to deliver projects with a pragmatic approach.