Battle Royale: Chief Data Officer vs. Chief Information Officer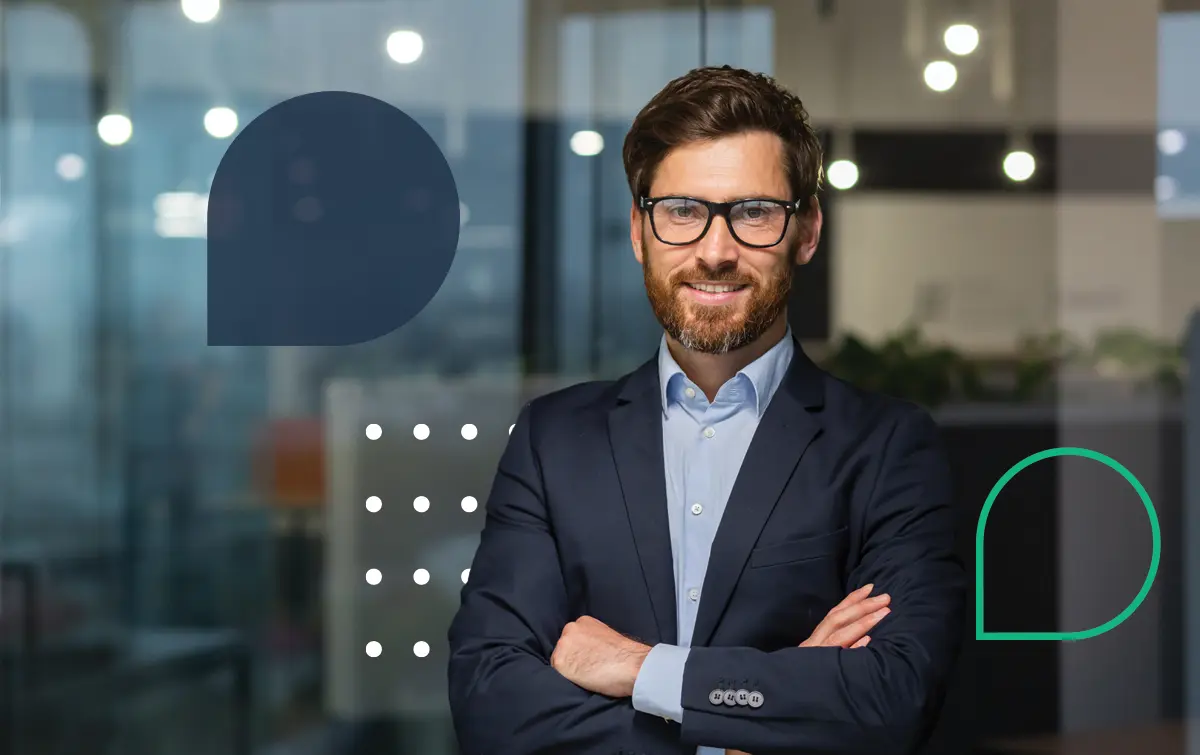 In the ever-evolving world of data management, it's common to hear two titles: Chief Data Officer (CDO) and Chief Information Officer (CIO). While the two roles may seem similar, they have distinct differences. A CDO oversees the management, governance, and utilization of an organization's data assets.
They ensure data is used effectively and securely throughout the organization and are increasingly critical figures in this age of digital transformation. In contrast, a CIO is responsible for the organization's overall technology strategy and the implementation and management of information technology systems. While both roles deal with data, the emphasis and scope of responsibility differ, reflecting this approach to data management and technology.  
It's their differences that can have a significant impact on an organization's overall strategic alignment, budgeting, operations, and return on investment. With an ever-increasing amount of data generated in organizations and tighter regulations regarding data management, it is essential to understand the distinctions between these two roles and the value they bring to the organization.  
Understanding these roles is critical in decision-making regarding whom to hire, how to divide responsibilities, and how to prioritize projects, allowing the organization to utilize its data and technology assets for success optimally. 
What is a Chief Data Officer? 
A Chief Data Officer (CDO) is a senior executive responsible for managing an organization's data ecosystem. The CDO is responsible for developing and implementing data strategies that align with the organization's goals. This includes data governance, data management, data analytics, and developing data-related policies and procedures to allow value creation from Data. 
The CDO works closely with other senior executives, including the CEO, CIO, and CFO, to ensure data is used effectively throughout the organization. Key responsibilities of the CDO include: 
Identifying data-related risks and opportunities. 
Ensuring compliance with regulatory requirements. 
Make Data more easily accessible to all business & technical users. 
Fostering a culture of data-driven decision-making 
Enable Innovation based on Data (A.I) 
CDOs must have a strong understanding of Business strategic needs, objectives for the company, and linked use cases as well as technology, data analysis, and data management practices. 
In today's data-driven economy, CDOs are critical in ensuring organizations leverage their data effectively, manage data-related risks, make informed decisions, and can deliver disruptive innovation (A.I.) 
What is a Chief Information Officer? 
A Chief Information Officer (CIO) is a high-level executive position within an organization responsible for overseeing the implementation and management of the company's information technology (IT) systems. The primary role of a CIO is to strategically plan and execute the technology initiatives that help the organization achieve its business goals. 
They must also possess a deep understanding of the latest trends in technology and use this knowledge to drive innovation and digital transformation within the organization. In addition to managing the technical aspects of the business, a CIO is also responsible for managing the IT budget and ensuring that technology investments deliver a return on investment. 
This requires a keen financial awareness and strong project management and negotiation skills. Overall, the Chief Information Officer plays a critical role in shaping the overall technology strategy of an organization and ensuring that the organization is equipped with the right tools to stay competitive in an ever-changing business landscape.
The Chief Information Officer (CIO) manages an organization's technological strategies and systems. Their primary responsibility is to ensure that technology is properly aligned with the goals and mission of the company. They must provide technical leadership to the IT department and deliver high-quality technology services. CIO responsibilities include: 
Overseeing the day-to-day IT operations. 
Managing the systems' security. 
Developing and implementing IT policies. 
Identifying areas of improvement for the technology infrastructure in sync with business & strategic goals for the company. 
The CIO is also responsible for staying informed about technological advancements and trends and evaluating how those advancements could benefit the company. A CIO must communicate effectively with other top executives and department heads to ensure that IT-related decisions support and align with the overall business strategy. They coordinate with other executives and department heads to ensure that cross-functional teams work to resolve business issues effectively and efficiently. 
An essential responsibility for any CIO is ensuring that the company's technological infrastructure is scalable and can accommodate growth. This requires them to stay aware of emerging technological trends and develop strategies to implement new technologies. Finally, the CIO must ensure the company complies with relevant data protection and privacy laws.  
This includes overseeing data protection policies, risk assessments, disaster recovery, and business continuity planning. Overall, the CIO plays a critical role in ensuring that an organization's technology infrastructure is secure, cost-effective, efficient, and aligned with the company's objectives. 
How does the Chief Data Officer fit into an organization?
The Chief Data Officer (CDO) is a senior executive overseeing a company's data strategy, management, and governance. The CDO must collaborate with other executives to ensure data is used effectively to achieve strategic objectives. Their roles typically include: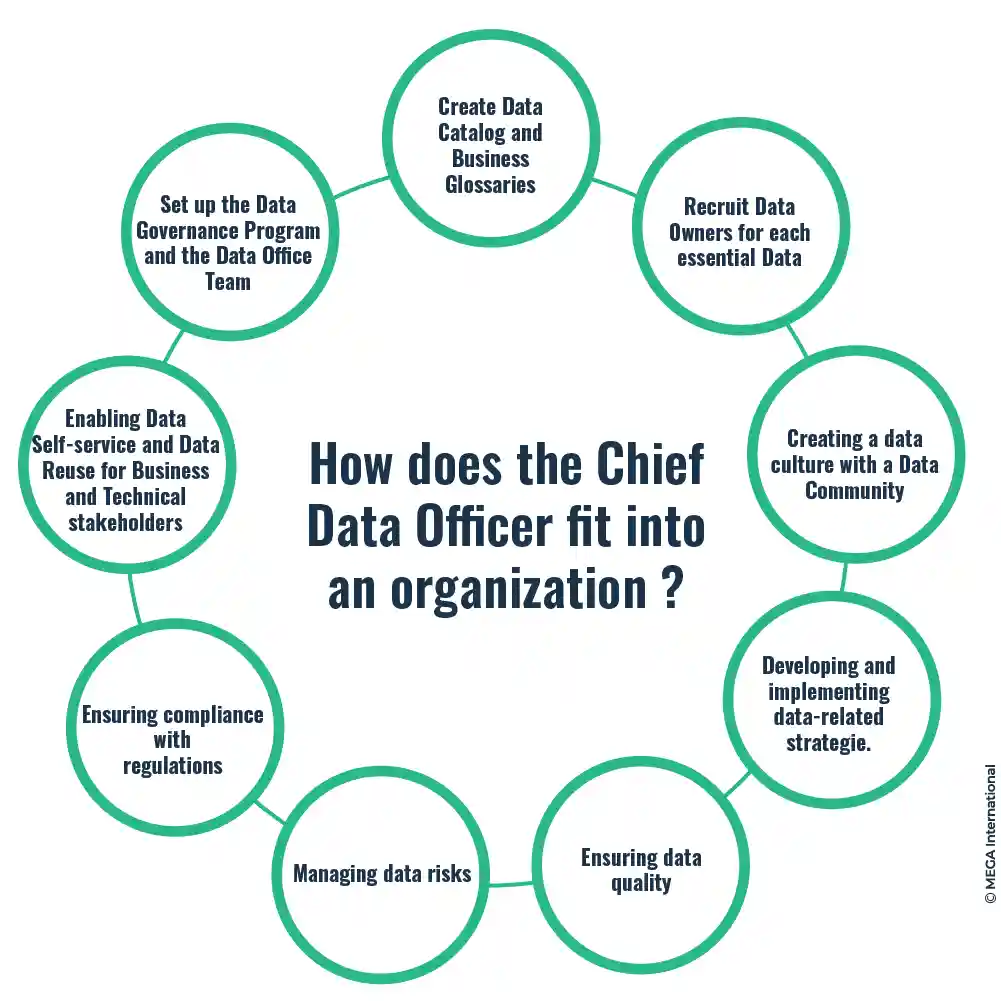 Set up the Data Governance Program and the Data Office Team 
Create Data Catalog and Business Glossaries 
Recruit Data Owners for each essential Data 
Creating a data culture with a Data Community 
Developing and implementing data-related strategies. 
Ensuring data quality. 
Managing data risks. 
Ensuring compliance with regulations. 
Enabling Data Self-service and Data Reuse for Business and Technical Stakeholders 
The CDO's responsibilities also include overseeing data security measures, data privacy, and data ethics frameworks within the organization. CDOs fit into the organization by reporting directly to the CEO or COO. As companies become more data-driven, the CDO often works closely with the Chief Information Officer (CIO) and Chief Technology Officer (CTO). 
The main goal of the CDO is to drive business growth and deliver value through data initiatives. In some companies, the CDO may also oversee operational functions like creating and managing data architecture and setting up data management systems. The CDO's role can be highly complex and differs from one organization to another. 
However, the CDO must be an excellent communicator with strong leadership and interpersonal skills to work with organizational stakeholders. They must have a deep understanding of business needs, data, and analytics and a keen eye for identifying critical insights from data. They also must stay up-to-date with the latest data-related technologies and emerging data trends. Overall, the CDO is an essential part of an organization that values and utilizes data to improve business outcomes. 
How do Chief Data Officers and Chief Information Officers collaborate and integrate?
Chief Data Officers (CDOs) and Chief Information Officers (CIOs) collaborate and integrate to ensure the organization's data and information infrastructure are aligned. They work together to address strategic and operational concerns, including defining data and information needs, identifying compliance and regulatory requirements, and overseeing data governance practices. 
Since they both have different but complementary roles, they establish a common ground to share resources and expertise. CDOs focus on data management, data catalog, business glossaries, data quality, management compliance with data regulations, and analytics. At the same time, CIOs concentrate on technology and infrastructure, including information management, security, and architecture. Together, they ensure they provide the entire organization with the necessary data and information to support the development and implementation of successful business strategies. 
The CDO and CIO partnership also ensures that organizations can adapt to new technology and regulatory demands, resulting in accelerated growth and innovation. Their combined efforts streamline digital processes, allowing for better decision-making and data-driven insights. CDOs and CIOs must work closely and keep an open dialogue, ensuring everyone benefits from the partnership. 
Chief Data Officers drive change by providing simple access to metadata via data catalog.  
Chief Data Officers drive change by providing simple access to data to all company stakeholders.  
The Data Catalog is a simple way to allow any user to search and find actual data available in the company – and all the potential linked data that could be used in conjunction to create new value. 
This Technical Catalog is built via technical metadata discovery and needs to be enriched with documentation, types, and tags such as "Personal," "Critical," "Sensitive," Financial," Marketing",… data. 
To be able to create Data Catalogs, the CDO needs help to identify what applications are collecting and how there are processing data.  
Not because they need to know what data needs managing intuitively. It's just that no one has an excellent holistic understanding and record of the flow of data through the organization, the rationale for its capture, and for what purpose. The latter issue is a more recent requirement driven by the need for transparency around the processing of data to comply with data protection legislation. 
Why is it important to understand CDOs' and CIOs' data perspectives?  
Because the resolution of the Chief Data Officer's challenges will, in turn, resolve the Chief Information Officer's difficulties in reliably sourcing accurate and trusted data, by providing an inexhaustible supply of valuable data assets, your Chief Information Officer can avoid the frustration of not getting access to the correct data when needed.  
You can accelerate your organization's digital journey by proactively managing the data friction your key stakeholders encounter daily and creating a more accessible and open data architecture to empower data users across the organization. 
How can CIOs and CDOs join forces? By focusing on three essential activities:
1. Build Information Roadmaps 
Information Roadmaps are the foundation stone of any digital transformation.
Match your Information Demand to your Data Supply 
   Are you managing and governing the correct data to address the organization's information priorities?  
Build and focus on your Data Supply Chain. 
  The technical and organizational frameworks and safeguards, including metadata and data protection by design, to share and deliver sustainable data assets to your stakeholders.  
Is it that simple? Well, maybe not, but no matter the industry you work in or the complexity of your organization, these are the most important steps you will take in your journey toward data supremacy because, as the Chief Data Officer, that's what is expected of you.  
Imagine having sustainable, re-usable, high quality, lawful and compliant data at your fingertips with complete transparency about the processing/use of that data.  
Imagine the Chief Information Officers' sigh of relief when the continuous burden of searching, bashing (figuratively speaking), and integrating the same data assets repeatedly is removed.  
Their purpose is to free up the CIO, the Digital Transformation team, the Data Scientists, and the Marketers to focus on how data-driven business outcomes produce value. Your purpose is to create the headroom needed to do this and manage the data risks, making these teams effective at creating value for your organization and customers. This blog is about how you can do that.    
2. How can data-driven business outcomes produce value for your business?  
How do you unlock the information your digital and analytics programs need while at the same time maximizing the opportunity to repurpose the data - and all the while ensuring the secondary uses remain compliant and lawful?
There are ways of achieving this through a collaborative process across the organization using visual representations of your applications, data, strategy, risks, and controls to understand and navigate your organization's data flows.
The transformation of your organization from a knowledgeable enterprise to an intelligent one begins with two simple questions:
What is the change you are trying to affect? And,  
What are the metrics/measures by which you will determine if the change has been successful?
Answering these two fundamental questions of your business stakeholders, not just the Chief Information Officer brings focus and purpose to the information demands being asked of you.  
And qualifying those requirements to understand what data is needed (breadth and depth), the geographic scope, the security classification of required data, the data protection safeguards (policies) needed, and the priority for delivery frame the prize size and scope of the challenge. 
3. Why make assumptions about what data assets are a priority?  
Working and collaborating with your stakeholders to develop a rolling information roadmap helps you, the CDO, anticipate and navigate the complexities of the data supply chain to keep the data flowing. Translating this demand into requirements and actionable steps is the next stage, and this is when tooling makes all the difference.  
Rationalizing data demand into deliverables that benefit more than one stakeholder is the key to maximizing data value and reducing time to market.  
This is when metadata management solutions, supporting the methods and techniques needed to frame the data demand and understand the impact on IT Assets, will cut through the complexities of the data requirements rationalization process.  
Whereas a simple spreadsheet may suffice in the short term to collate the requirements, my experience recommends having a metadata management solution in your sights from the start so it can be migrated to the tool more efficiently when the time comes, usually a couple of months into this process. If you are fortunate, you will have this capability established and available.  
In advance of and post-GDPR enforcement, several tools have entered the marketplace supporting data management and compliance governance.  
Many of these tools address the immediate organizational safeguards and primary data protection legislation compliance requirements, e.g., Servicing DSAR (Data Subject Access Requests), DPIAs, and RTBs (Right to be Forgotten). Still, they must accommodate the governance of requirements, continuously sourcing, preparing, managing, and protecting data assets for secondary processing.  
More often than not, this capability needs to be noticed by the tool vendors.  
Why is this? Because they have yet to understand the multidimensional challenge of curating data that is Fit-for-Purpose, Accurate, Complete, and Timely to drive Data Science, AI, and Machine Learning.  
Understanding, with precision, the right source, quality, and timing of data acquisition for data analytics requires a comprehensive understanding of how data is collected and managed across the business landscape.  
It would be best to have a tool that supports business and technical data and architecture definitions.
This will help you document and visualize the connectedness and flow of data.  
These touchpoints represent where compliance with the principles of privacy by design is most relevant. At the juncture where applications collect data, people touch data, processes ingest data, and technology processes data, the security and privacy risks of data are greatest.  
These pinch points are where the practical application of data protection by design will drive compliance with privacy principles and demonstrate the effectiveness of your organization's data safeguards.  
Connecting all these dimensions - People, Processes, and Technology - to data and information assets is essential for adequate data provenance and Big Data governance, a critical requirement for many regulations, not just the GDPR. 
How do new technologies impact the roles of CDOs and CIOs?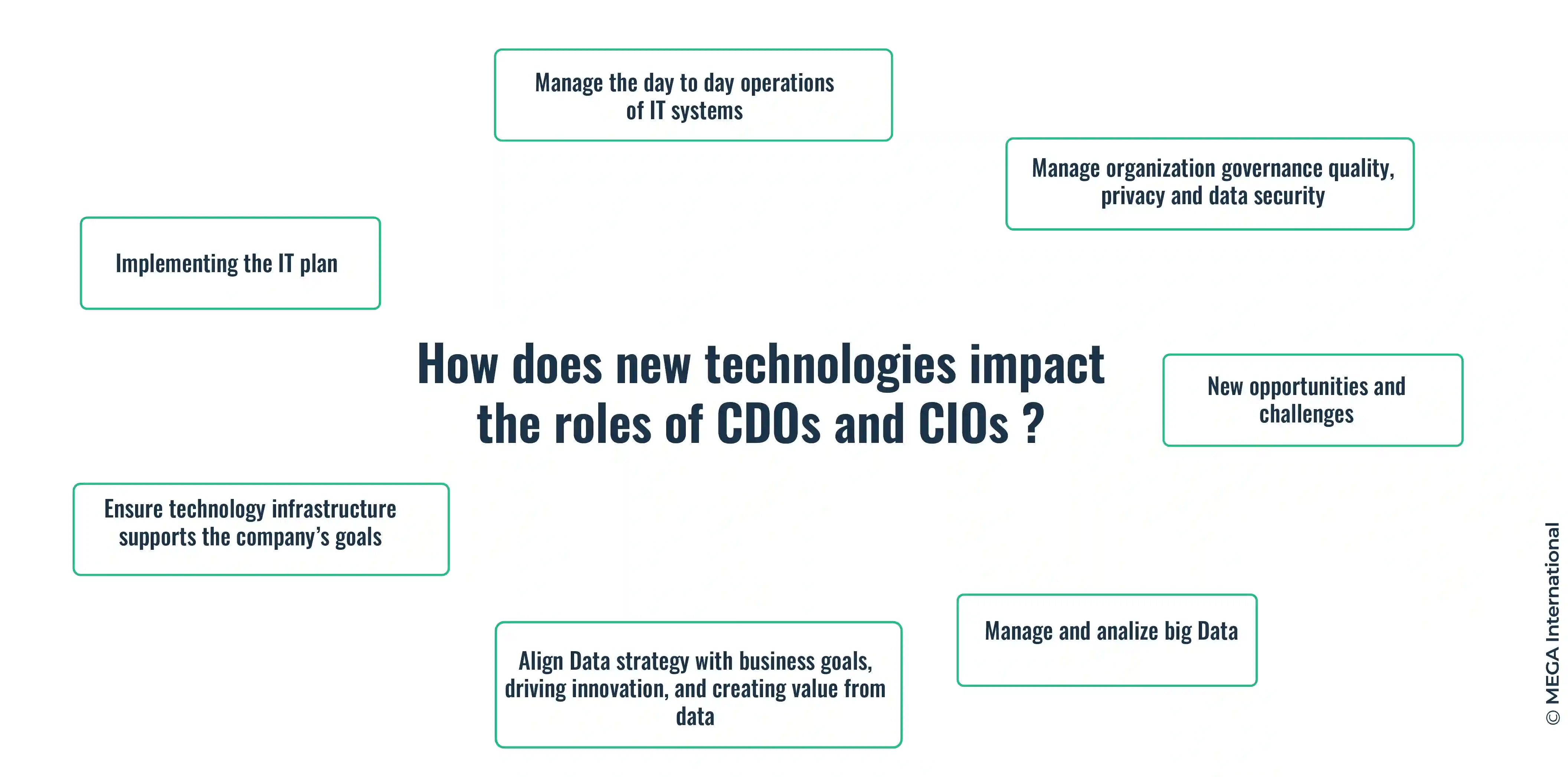 New technologies have revolutionized how organizations operate, and their impact on the roles of Chief Data Officers (CDOs) and Chief Information Officers (CIOs) must be addressed.  
With digital transformation becoming more prevalent, CDOs have been tasked with aligning data strategy with business goals, driving innovation, and creating value from data. 
They manage the organization's governance, quality, privacy, and data security. Meanwhile, CIOs are responsible for developing and implementing the IT plan, ensuring the technology infrastructure supports the company's goals, and managing the day-to-day operations of IT systems. 
With the advent of Artificial intelligence (AI) and Machine Learning (ML) technologies, the CIO's role has been expanded to include managing and analyzing big data, enhancing digital security, and creating strategies for using emerging technologies. Overall, new technologies have created new opportunities and challenges for CDOs and CIOs, and these roles are expected to evolve with the increasing rate of innovation. 
What is the future outlook for Chief Data Officer and Chief Information Officer positions?
The future outlook for Chief Data Officer (CDO) and Chief Information Officer (CIO) positions is favorable, as these roles continue to grow in importance within organizations. The CDO is responsible for ensuring the quality, security, and accessibility of an organization's data. 
The CIO is in charge of managing IT infrastructure and implementing technology strategies to support business operations. The rise of big data, artificial intelligence, and the Internet of Things has resulted in an exponential growth of data, which has led to an increased need for data governance and management. As a result, CDOs are becoming crucial to modern-day businesses. 
Moreover, CIOs are expected to be more strategic in developing technology-focused business strategies that align with organizational goals. The successful integration of technology within an organization will continue to be a key driver of growth in the future. Therefore, the demand for qualified and experienced CDOs and CIOs is predicted to rise in the coming years, making these positions crucial for companies striving to stay competitive and innovative in the digital age.  
Summary 
After analyzing the differences between Chief Data Officer and Chief Information Officer, it can be concluded that both positions have distinct organizational roles.  
While the Chief Information Officer manages technology and information systems to support the company's business objectives, the Chief Data Officer manages the organization's data assets.  
The CDO is focused on deriving insights from data, creating data policies, quality assurance, and data governance, and designing strategies to maximize data potential for the organization's benefit.
However, these two positions must work collaboratively for the organization to achieve its goals.  
Effective communication, cooperation, and collaboration must be between CDO and CIO to achieve the desired outcome. CIOs must connect with CDOs and see their value and expertise to implement data-driven strategies thoroughly.  
At the same time, CDOs must work with CIOs to ensure that data assets are effectively integrated into the organization's overall technology and information systems.  
In summary, CDOs and CIOs have unique roles critical to the business's success.  
Therefore, a collaborative and symbiotic relationship between these professionals is essential for the organization's success. 
Contributor:  
Gerry Rankin, formerly Global Head - Privacy Risk Management at Anonos Inc, and former Head of Data Privacy, Security, and Control at HSBC Global Banking & Markets for Big Data and Programme Director of Global Data Sharing for HSBC Group CDO. With 25+ years of cross-industry Data Management and Governance experience, including Financial Services, Manufacturing, Telecoms, Advertising, and Air Express, Gerry has a deep understanding of the challenges organizations are facing to accelerate the commercialization of data that will drive more excellent value for their stakeholders and investors, but also the need to sustain demonstrable and transparent control of data and information in an increasingly regulated data world.  
He has led data governance and compliance programs in large and complex organizations to drive greater data agility, helping people to develop and understand the changing regulatory landscape of data privacy risk and how this impacts the long-term digital transformation of their business. 
Answers to frequently asked questions
The Chief Data Officer (CDO) is a senior executive responsible for driving data strategy and governance across an organization. The CDO's primary responsibility is to ensure that the enterprise's data assets are properly managed, protected, and leveraged to support the business goals. The CDO's role has become increasingly vital in a data-driven world, as organizations must ensure that the data they collect is accurate, reliable, and protected from unauthorized access.
The CDO's responsibilities include:
Developing and implementing data policies and standards.
Overseeing data quality and integrity.
Defining data architecture and technology strategy.
The CDO is also responsible for ensuring data-related regulations and privacy policies compliance. In addition, the CDO is tasked with driving data innovation and identifying new technologies and techniques that can improve data governance and management. The CDO must be skilled at building effective relationships across departments and driving collaboration between data and analytics teams.
These professionals should also be adept at managing people, guiding data experts, and ensuring the necessary skills and knowledge are present throughout the organization. The CDO role has evolved substantially in the last decade and will continue to play a crucial role in shaping the future of data governance and management across industries.
The CDO typically plays a central role in data governance. They are responsible for developing and implementing data governance policies and procedures, ensuring data quality and accuracy, assigning ownership of data assets, and overseeing compliance with relevant regulations. They may also work closely with other senior executives, such as the CEO and CIO, to ensure that data is used effectively to support the organization's goals.
The Chief Information Officer (CIO) oversees an organization's technology systems and operations. The CIO's role has become increasingly important in the digital age as technology is at the forefront of almost all business operations. But who does the CIO report to? The answer is that it varies depending on the organization. In some companies, the CIO may report to the CEO or the COO, while in others, they may report to the CFO or the Chief Strategy Officer.
The reporting structure for a CIO can differ depending on the company's culture, the industry, and the organization's size. Regardless of who the CIO reports to, their primary focus is ensuring that technology systems are aligned with business objectives, secure, resilient, and optimized to provide a competitive advantage in the industry.
The CIO's responsibilities may include cyber security and data management, compliance with regulatory requirements, and implementing IT strategies supporting future growth and innovation.
The Chief Data Officer (CDO) is crucial in managing organizational information. One of the main responsibilities of the CDO is to develop and implement a data strategy that aligns with the organization's overall goals and objectives. This requires a clear understanding of the organization's operations, customers, products, and services.
The CDO coordinates and oversees data acquisition, storage, processing, and analysis to ensure the organization meets its data needs. In addition, the CDO works with teams across the organization to ensure data quality, accuracy, confidentiality, and compliance with regulatory and legal requirements. The CDO also identifies and assesses new data technologies and tools to enhance data management performance and makes recommendations to senior management.
Ultimately, the CDO helps to ensure that the organization can make timely and informed decisions by providing accurate and actionable information. In a world where data is increasingly essential, the CDO is a crucial player in ensuring the success of an organization.
The Chief Data Officer (CDO) is a relatively new position in organizations, and the reporting structure varies depending on the company. Generally, the CDO reports to the Chief Information Officer (CIO), Chief Operating Officer (COO), or Chief Executive Officer (CEO).
The CDO's role is focused on managing data as a valuable asset for the company to drive strategic business decisions. Ultimately, the reporting structure should involve someone who understands the importance of data and its potential to drive revenue for the organization.
A chief digital officer (CDO) is responsible for leading an organization's digital transformation efforts, which may encompass a variety of activities beyond managing data, such as developing digital products and services or implementing new technologies. While there may be some overlap in responsibilities with a CDO focused on data, the role of a CDO tends to be broader in scope.
MEGA HOPEX for Data Governance
Request a demonstration of HOPEX for Data Governance, and see how you can have immediate value for your projects.