Benefits of Application Portfolio Management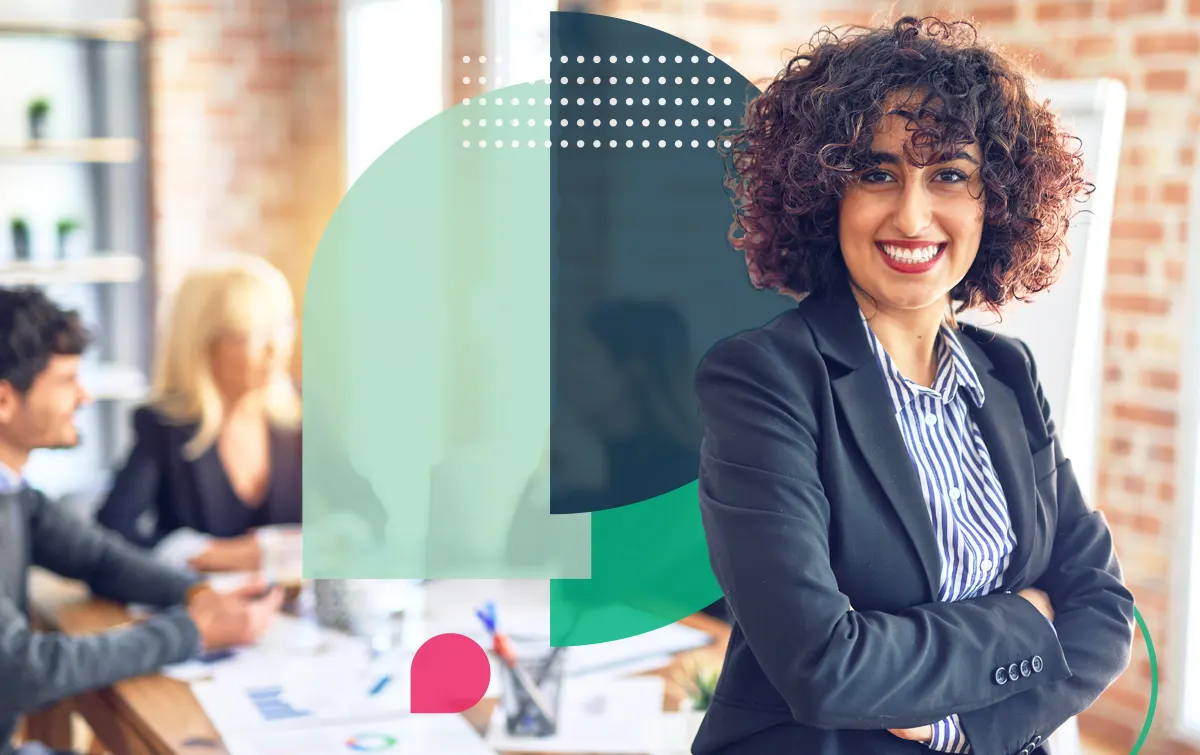 The benefits of application portfolio management are tremendous! This article will explain why application portfolio management tools are necessary and how they can give businesses a competitive edge. 
IT departments are confronted with an increasing number of applications to manage. They often need more visibility into these applications, especially how they support the business. By understanding and utilizing the advantages of portfolio management, companies can gain an edge in their industry. 
APM provides organizations with organizations' inventory applications and assesses their technical and business value so that organizations can determine which ones to keep, modernize or eliminate. IT departments use a proven methodology to reorganize their IT systems successfully. 
If you're looking for ways to improve your business organization, you will take advantage of these benefits of portfolio management. Managing the applications used by a business is complex, but the benefits are undeniable. 
Benefits of application portfolio management (benefits of APM) 
Application Portfolio Management (APM) is a great way to keep track of all the applications in an organization. It allows easy tracking of which applications are being used, how frequently they are used, and by whom. 
This information can be handy for decision-makers who need to understand what is currently being used within their organization and how it affects overall productivity. Additionally, the APM system provides organizations with valuable insight into application performance and usage trends, giving them a better understanding of how their technology investments are performing over time.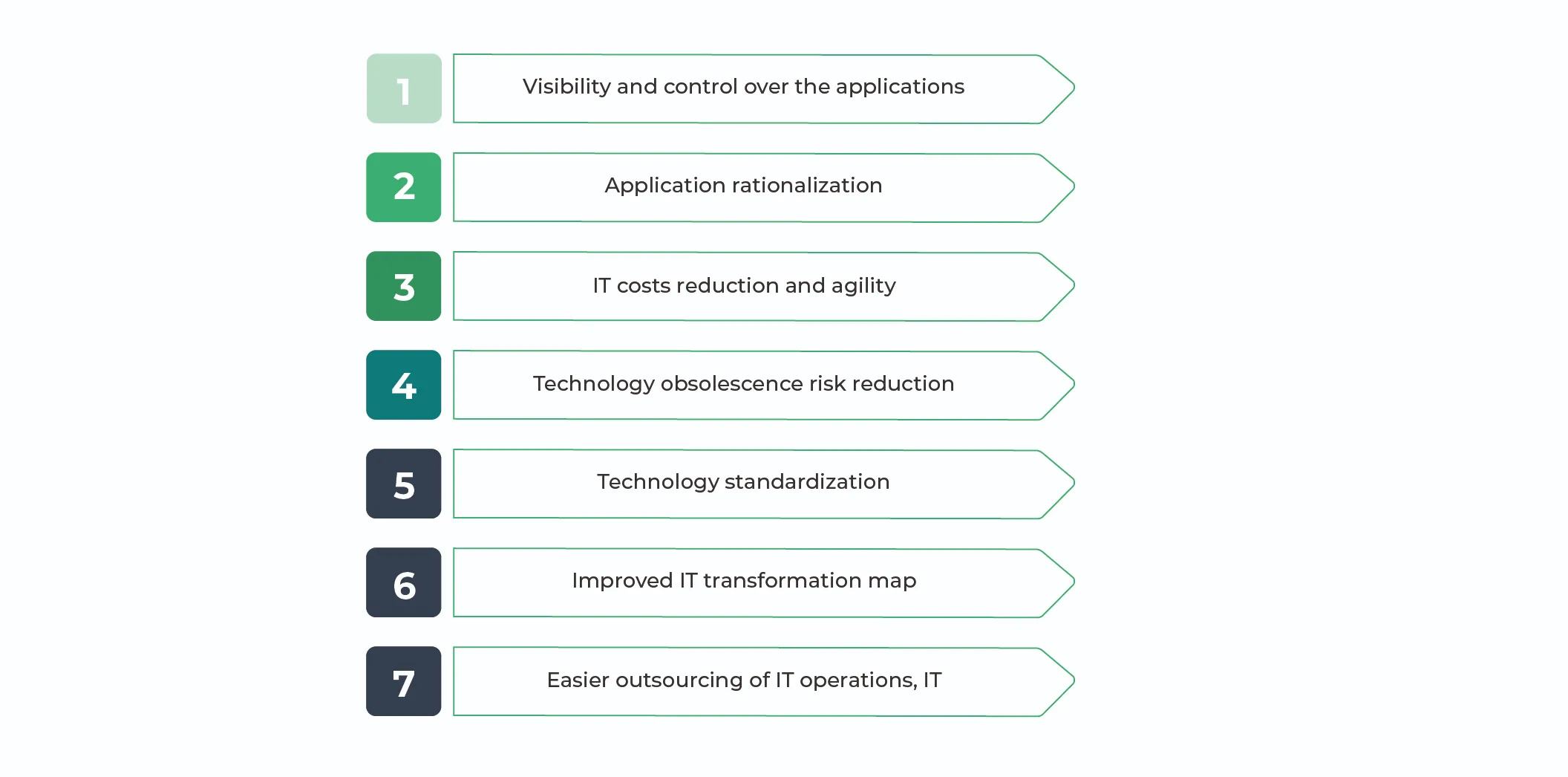 1. Visibility and control over the applications /IT system
Over the last few decades, many IT departments have witnessed increasing applications. This increase is often due to past mergers & acquisitions, globalization, or organic growth. 
Thus, IT departments are facing increasing complexity as well as multiple redundancies. They need more visibility into their applications, and integrating new resources into their legacy systems can take time and effort. 
Application Portfolio Management helps companies perform an application inventory under multiple perspectives, such as lifecycle, costs, deployments, or the business capabilities they support. IT portfolio managers can also link applications to technologies and business capabilities to understand an IT asset's impact on the business and perform what-if analysis to rationalize applications. 
It is possible to call on application owners, who will update their application information to streamline the application inventory.  
It can be crowdsourced to application owners, who will update their applications' information to speed up the application inventory. Overall, this inventory will provide greater visibility and a better knowledge of the IT systems, enabling IT leaders to embrace new business projects easily. 
 
2. Application rationalization, IT costs reduction, and IT agility
Application portfolio management provides many dashboards to understand the state of the portfolio. Dashboards on application lifecycles provide information about when applications will be retired or replaced by another version. 
Other key information, such as data flows between applications, clarifies the impacts of removing an application or the possibility of exchanging data with another one. But the strength of an application portfolio management practice resides from the business perspective. 
IT leaders have a clear understanding of how applications support business capabilities, and therefore they know which applications are critical to the business. Application Portfolio Management tools also include questionnaires that enable business users to provide satisfaction feedback on their applications. 
Not only do these dashboards highlight potential inconsistencies, but also they help better plan the IT transformation. Using these dashboards, IT managers can rationalize applications, reduce IT costs and increase IT flexibility because they better understand their applications' business value. 
 
3. Technology obsolescence risk reduction and standardization
IT departments often manage a vast number of software technology components that represent a threat to organizations. By limiting the variety of technology products, IT departments can perform essential economies of scale, and dev teams are better trained to use these technologies. 
To determine technology obsolescence, APM software can be connected to external libraries that contain information about lifecycles, including end-of-life dates. Based on this information, dashboards are available that show how applications are affected by technologies' end-of-life. 
Once this assessment is complete, technology portfolio managers can decide whether technologies comply with the company's standards. 
By defining technology standards, technology portfolio managers help companies reduce the number of technologies – and their costs, while ensuring projects don't use rogue technologies.
 
4. Improved IT transformation roadmap
If application portfolio management solutions help provide the whole picture of IT systems, they also help IT managers plan their IT systems' transformation. 
 
Based on application lifecycles and cost assumptions, IT managers can simulate future IT projects and analyze the outcome of their premises. To do so, they create a mix of initiatives based on different assumptions, such as extending or phasing out an application, and compile these initiatives into different scenarios. 
Then, they can see the impact on their IT systems and compare the different scenarios. 
By planning and executing the IT transformation, IT departments can allocate more resources to new business initiatives and focus on innovation. 
 
5. Facilitates outsourcing of IT operations, IT audits, and compliance.
If an organization decides to outsource one part of its IT, it needs to make a detailed inventory of its assets and potentially eliminate irrelevant applications. Therefore, an assessment is required before deciding which applications to keep or outsource. 
Streamlining IT audits or IT certifications is another benefit. External consulting companies or governmental organizations recommend or require companies to monitor their IT assets properly. Here, an application portfolio management practice will help organizations better support the IT roadmap, or reduce capital allocation to cover IT risk, for example. 
In conclusion, Application Portfolio Management is an essential tool for any company. It provides an efficient and effective way to organize, manage and update their applications. It significantly reduces complexity, simplifies IT management, and eliminates redundant applications. Furthermore, it helps organizations stay on top of the latest trends and technologies and provides a comprehensive view of the entire application landscape. Lastly, it can help improve operational efficiency by reducing costs and improving performance. 
Learn more about Application Portfolio Management (APM)

Increase visibility and rationalize your IT portfolio with APM
MEGA HOPEX for Enterprise Architecture
Request a demonstration of HOPEX for EA, and see how you can have immediate value of your projects.