Enterprise architects: role, trends and best practices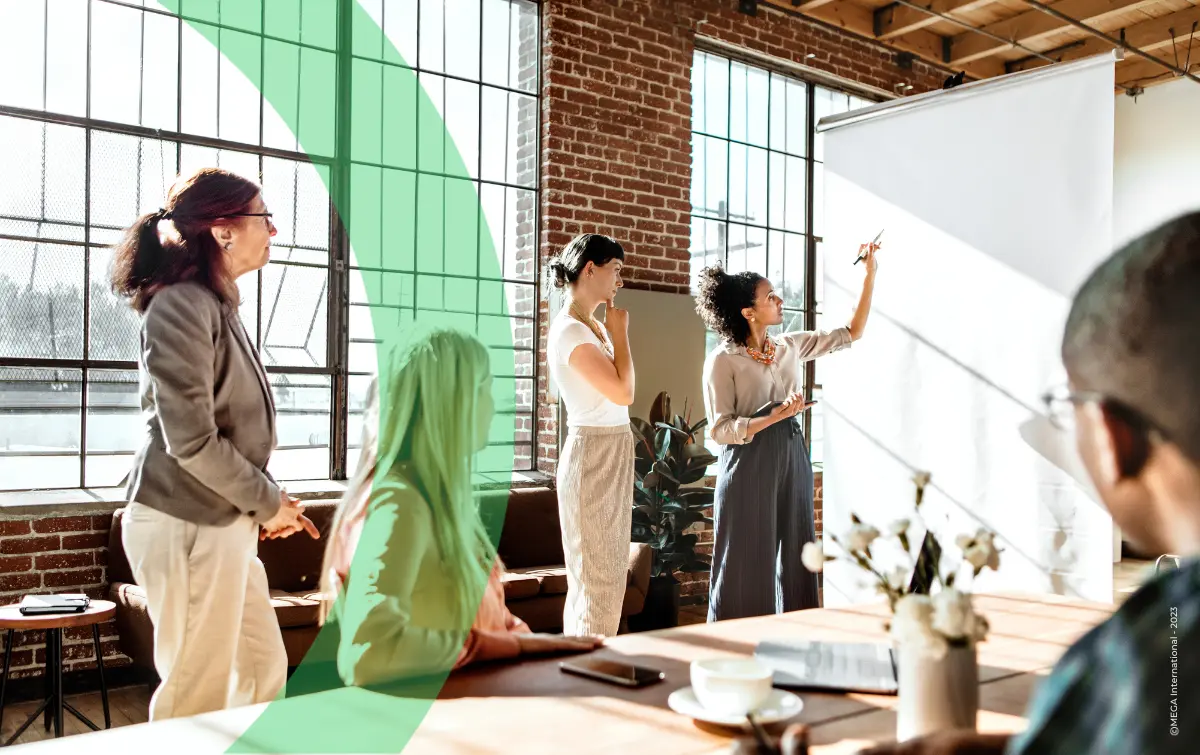 Enterprise architects play a crucial role in navigating organizations through rapidly changing business ecosystems. EAs need to identify the most pressing challenges faced by companies and find ways to deliver real value to their organizations.
At a webinar hosted by MEGA International, Gordon Barnett, the Principal Analyst at Forrester Research, spoke with Dan Hebda, Chief Strategy Officer at MEGA International about the changing role of the Enterprise Architect (EA) and how they can deliver insights to support decision-making. Discover Gordon's best advice to enhance the role of an enterprise architect based on the survey conducted by Forrester Research to identify what IT areas need to be prioritized and optimized within a company.
Enterprise Architects: Delivering Value in a Changing Ecosystem 
Recently, Forrester surveyed almost 5,000 professional respondents asking them to selectively rank a list of IT objectives in order of importance. The highest-ranking objective was improved security and privacy. 27% of respondents indicated that improving security and privacy was one of their most important priorities. Improving IT reliability and resilience ranked second with 22%. Objectives such as enhancing customer experience via IT and reducing IT costs also ranked highly. 
"However, EAs should be placing their focus not necessarily on the highest-ranking objectives. I believe that EAs should focus on three specific topics, not because they are key priorities now but because they will be the key priorities for the future. EAs should place their focus on: 
Security and privacy; 
Sustainability; 
Data." 
EAs are well positioned to contribute and deliver value within these topics precisely because these areas are moving out of or have moved out of the IT world. Previously, an EA may have been working with IT on these issues, but now these areas are actual ecosystems within an organization.  
The Role of Enterprise Architects in Security 
Many organizations have a Chief Information Security Officer, although this is not always the case. In some instances, security may be a function within IT. In this case, an EA will have quite a significant role as they may be the person responsible for: 
Identifying security risks in the technology landscape; 
Designing a security strategy; 
Designing security architecture. 
 "The role of an EA in security may also include implementing security controls, ensuring compliance, and monitoring and reviewing security processes and procedures. " 
Working with CISOs 
As more organizations hire dedicated chief information security officers (CISOs), the role of the EA has changed concerning security. CISOs typically concentrate on high-level policies, threats, and mitigation strategies. Enterprise Architects, however, are still responsible for lower-level implementation, monitoring, and architecture. The EA works as a collaborator with the CISO and adds value by working with the CISO to mitigate risk. EAs should also work with the chief financial officer (CFO) to ensure security processes are financially viable. Collaboration is key and EAs must focus on providing the required technical expertise. CISOs rely on EAs to make sure that the security design meets their criteria. EAs also have a responsibility to ensure compliance.  
Dealing with Security Incidents 
As far as monitoring and reviewing security incidents, EAs must place their focus on looking for consistent weaknesses in the architecture. If there are security incidents, EAs need to identify areas of poor implementation, if the incident is something new, or if it is a weakness in the architecture. As more organizations grow their digital capabilities, bad actors invent new ways to break into organizations. The role of enterprise architects is going to be more crucial when it comes to security. 
Empowering Decision Makers 
EAs empower people to make certain security decisions. It's important to make sure that roles and responsibilities are understood so that people know about decisions they can make, and what controls need to be in place. This way, EAs can ensure that governance is good, and the landscape is well managed. Transparency of communication is key. Every time an EA distributes governance and empowers people, decisions are made all over the place. Therefore, EAs must inform people. In this new world, EAs must have a communication strategy and ensure transparency of decisions.  
Sustainability and Enterprise Architects 
While the focus of many organizations is on general sustainability topics such as climate change discussions about carbon footprint, waste, and energy, EAs can't do much in this space simply because the IT landscape is not there. Instead, EAs should strive to understand how their organization reports sustainability and what measures and metrics are being used.  
Most business annual reports are required to report on sustainability. These reports typically focus on Scope 1 and Scope 2 Greenhouse Gas (GHG) emissions (i.e. direct emissions), energy usage, and water consumption. In practice, EAs will need to work with infrastructure and operations professionals to manage the energy consumption of technology assets such as data centers. Many of these areas will be out of scope for EAs, but they must understand this type of information. 
The question is: how can EAs think differently? EAs who are heavily involved in sustainability focus on three key areas.  
Sustainability Throughout Asset Lifecycles 
Firstly, an EA needs to focus on how sustainable the IT landscape of an organization is. They must consider each asset throughout its entire lifecycle. This incorporates the procurement process, the energy consumption, and emissions of an asset during its lifetime, and the disposability process. Does improving these areas impact the IT landscape? How can the IT strategy be changed to improve sustainability?  
Emerging Technology 
The second focus should be on emerging technology. Can emerging technology help to manage the IT landscape so that it is more sustainable in the future? EAs need to evaluate the organization's investment choices regarding emerging technology and what are the most desirable outcomes.  
Adaptive Learning 
Lastly, EAs should focus on becoming an adaptive learning organization. Many employees and customers may not be focused on sustainability simply because of a lack of awareness. Is there technology that can be used to provide educational insights to employees and customers so that they can help reduce their carbon footprint? EAs need to look at sustainability issues from an end user's point and work out strategies on how to make them more aware of their impact.  
Sustainability is data-driven. EAs can use data to make more informed decisions about how they can help their organization achieve objectives as well as to identify what those objectives might be regarding sustainability. 
Enterprise Architects and Data 
Every organization is becoming data-driven. But data is now significantly outside of IT. Key decisions are being made by an information management group, data management group, or the like. Data has become a key asset for an organization, just like its people. 
Companies are focusing on challenges such as having a vision for data, being able to manage data, how to get insights, data science, structuring the data, and analytics. There is a major concern about the maturity of technology. 
Organizations are concerned with poor data quality, lack of understanding of data, collaboration through the team, and accessibility of readiness to data. A truly data-driven organization must focus on using data more effectively. To use consumer or customer emotional data, transactional data, and operational data, and to make sense of it to help the organization, EAs have to architect.  
 The Four-Layered Approach to Data 
When people talk about data, they're usually focused on the business value of data, looking at it from a customer and a transactional point of view. They very rarely look at it as operational data and how to improve and enable the IT organization. 
There's a four-layered approach. The number one foundation is principles. If there's anything that is going to change the role and the perception of data it is through having well-defined operating principles, not architectural principles. 
Operating principles identify the behavior EAs want today, the behavior they want to stop happening, and the reason why. Every good operating principle can be defined as 'We are going to do X as opposed to Y because we get benefits Z.' This sets up the foundation for becoming a data-driven organization." 
"Embracing automation in the whole of the data ecosystem is the next crucial layer. After that, it's enhancing data science skills. EAs don't have to be data architects or data scientists but they must enhance their data skills." 
The final layer is transforming into a truly data-driven organization. To become a data-driven EA, professionals should to focus on four aspects: 
Start with company culture.  
Build data skills. 
Architect for success. 
Consider new dedicated roles. 
Skills and Best Practices for Enterprise Architects 
To drive change within an organization, Enterprise Architects must think outside the box. They should work on these skills and best practices: 
Develop an effective talent management strategy. Match the needs of the organization to the desires of the employees. 
Focus on outcomes, not output. Understand what people are trying to achieve and align your services and products to those outcomes with a value proposition. 
Improve experience literacy. Understand the customer experience, end-user experience, partner experience, and employee experience. 
Enhance financial literacy. Understand the cost of delivering value to a customer. 
Become a storyteller. Be conscious of the audience and present what they will understand.  
Focus on the business value of technology. 
MEGA HOPEX for Enterprise Architecture
Request a demonstration of HOPEX for EA, and see how you can have immediate value of your projects.