How EA Drives Successful Digital Transformations in Organizations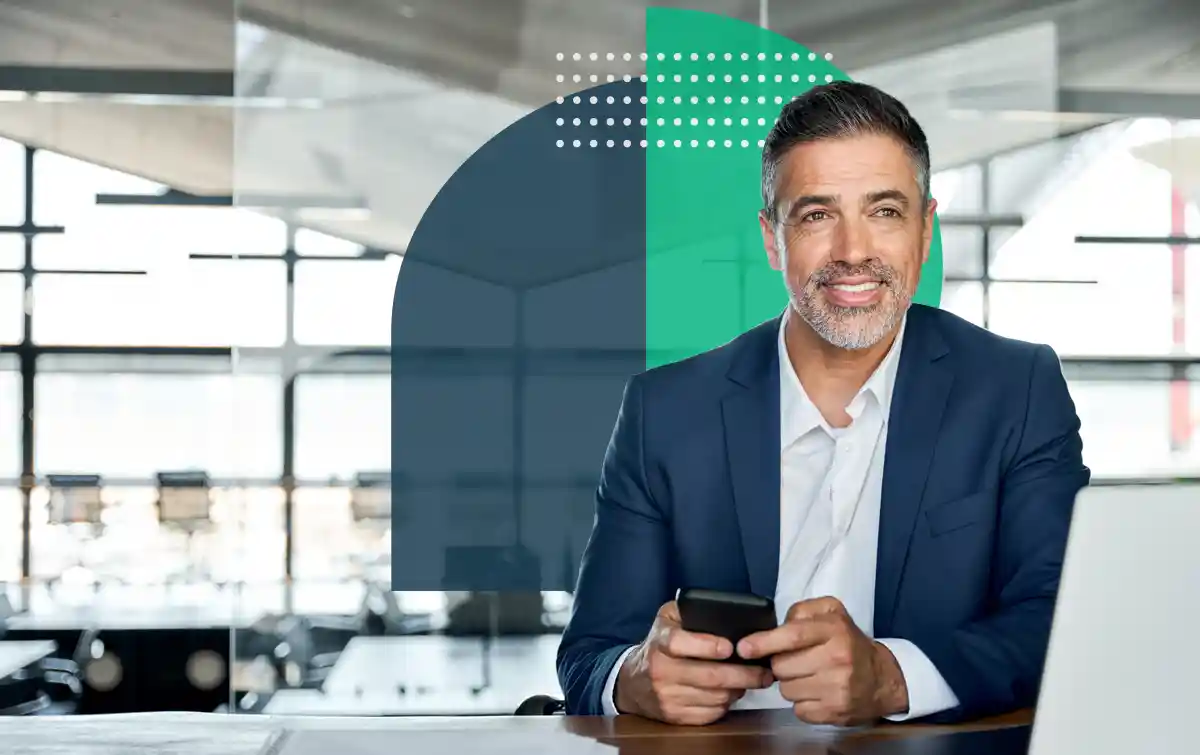 In today's digital world, the need for successful digital transformation is more crucial than ever. Companies are increasingly engaging in digital transformation efforts to stay relevant and competitive. However, digital transformation is not just a mere technology update. It requires a strategic approach to integrating business processes, models, and objectives. This is where enterprise architecture comes into play.
What is Enterprise Architecture, and How Does it Relate to Digital Transformation?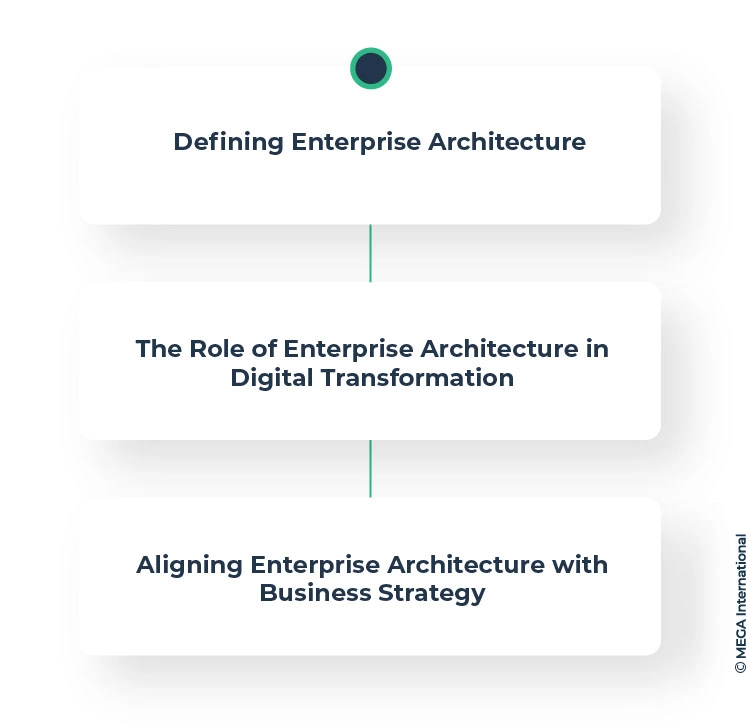 Defining Enterprise Architecture 
Enterprise Architecture (EA) is a framework that defines the structure and operations of an enterprise. It provides a holistic view of the enterprise's processes, systems, applications, and business units, including a clear understanding of their interdependencies and relationships. Enterprise architects use EA to align business needs with technology solutions and create a standardized operating model.  
Learn more about Enterprise Architecture
The Role of Enterprise Architecture in Digital Transformation 
Digital transformation involves leveraging digital technologies to improve operational efficiency and customer engagement. One of the main challenges for enterprises is integrating digital technologies into existing business processes. This is where EA comes in. EA provides a structured approach to integrating new digital technologies with existing systems, resulting in streamlined processes and increased efficiency. 
Aligning Enterprise Architecture with Business Strategy 
Effective enterprise architecture requires alignment with business strategy. Enterprise architects work with business leaders and stakeholders to understand the organization's goals and objectives. They then develop a roadmap for digital transformation initiatives that align with the organization's business strategy. This ensures that transformation efforts are focused on achieving business value.
Why is Enterprise Architecture Important in Driving Digital Transformation?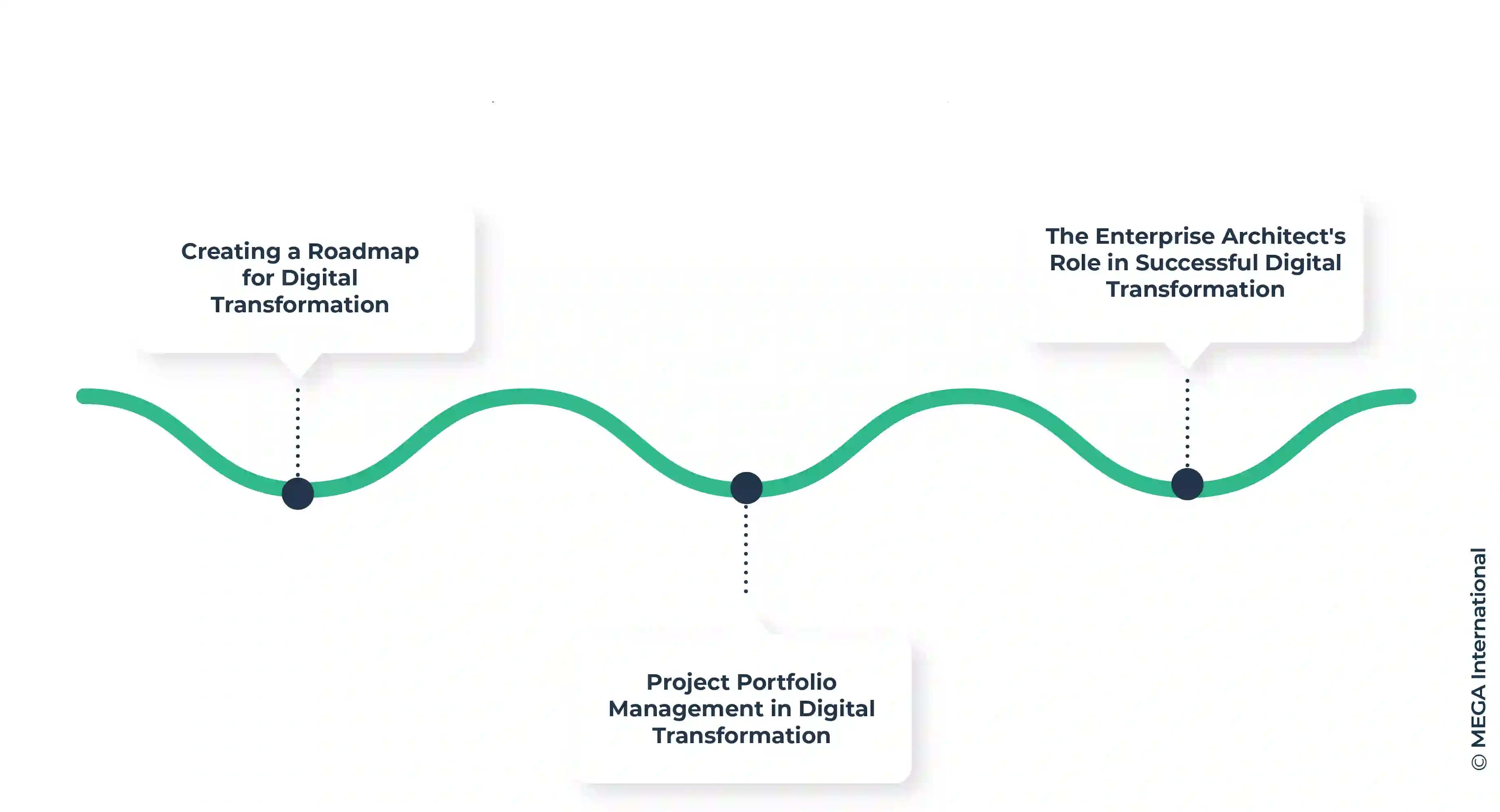 Creating a Roadmap for Digital Transformation 
One of the most important roles of enterprise architecture in driving digital transformation is creating a roadmap for the transformation. The roadmap provides a clear path for the organization's digital transformation initiatives, outlining the required projects, timelines, budgets, and resources. This helps business leaders plan and prioritize digital transformation projects to achieve the desired business outcomes. 
Project Portfolio Management in Digital Transformation 
Enterprise architects are essential in project portfolio management, ensuring digital transformation initiatives are aligned with business objectives and properly resourced. The enterprise architecture team develops a portfolio management framework that enables business leaders to evaluate and prioritize transformation projects based on their strategic value. This ensures that the organization's resources are allocated to the most critical projects while minimizing risks and maximizing returns. 
The Enterprise Architect's Role in Successful Digital Transformation 
The enterprise architect's role in successful digital transformation goes beyond developing a roadmap and managing the portfolio. They must also serve as a strategic advisor to business leaders in identifying new opportunities for transformation and providing solutions to address business challenges. Enterprise architects need to be agile and comprehensively understand the organization's digital technologies to drive successful digital transformations.
How Can Business Leaders Drive Digital Transformation Success with Enterprise Architecture?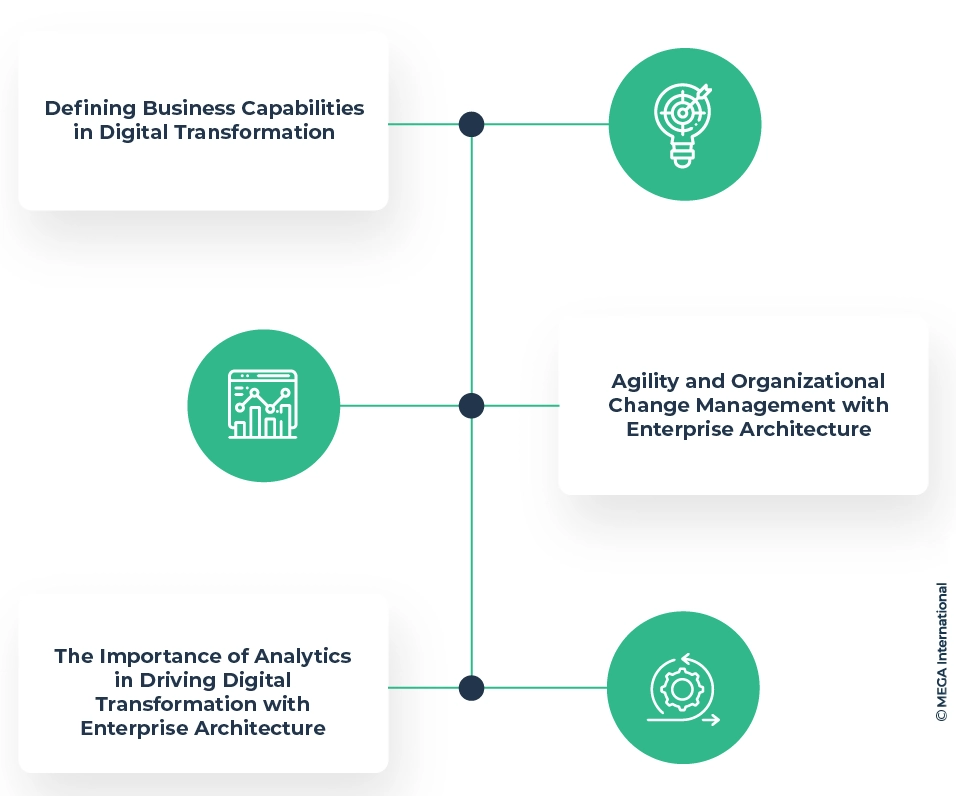 Defining Business Capabilities in Digital Transformation 
Business leaders need to define the organization's business capabilities in digital transformation. Enterprise architects help map these business capabilities to the organization's technology solutions, resulting in a clear understanding of how digital technologies enable and support the organization's business capabilities. This helps business leaders make informed decisions about digital transformation efforts and adapt to changing business needs.
Agility and Organizational Change Management with Enterprise Architecture 
Enterprise architects must be agile in responding to changing business needs and demands. They must develop a comprehensive understanding of the organization's business processes and workflows, enabling them to identify areas for improvement and recommend solutions to optimize these workflows. They must also provide organizational change management support, helping business leaders manage the change brought about by digital transformation initiatives.
The Importance of Analytics in Driving Digital Transformation with Enterprise Architecture 
Analytics plays a critical role in driving successful digital transformations. Enterprise architects must comprehensively understand the organization's data assets, ensuring they are processed, stored, and analyzed efficiently and effectively. They must provide business leaders with insights into emerging trends and technologies, enabling them to make informed decisions about digital transformation initiatives.  
Summary
In conclusion, enterprise architecture is crucial in driving successful organizational digital transformations. By aligning enterprise architecture with business objectives and creating a roadmap for digital transformation, enterprise architects can help business leaders achieve their digital transformation goals. With a focus on agility, organizational change management, and analytics, enterprise architecture can drive business value and achieve transformative results.
As McKinsey and Gartner suggest, companies that do not incorporate enterprise architecture in their digital transformation initiatives may fall behind their competitors.
Answers to frequently asked questions
Enterprise architecture is a comprehensive framework of an organization's structure, operations, technological landscape, and business strategy. It aligns all these components to drive maximum value creation and help the organization achieve its business goals.
Learn more about Enterprise Architecture
Enterprise architecture is critical in successful digital transformations by providing a roadmap that ensures alignment between a company's business strategy and its technology initiatives. By leveraging enterprise architecture principles, organizations can identify the digital platforms, emerging technologies, and business data that can help them succeed in the digital age.
The role of an enterprise architect in digital transformation is to ensure that all technology initiatives align with the overall business strategy. They develop a roadmap that enables the organization to leverage emerging technologies and digital platforms to create value. They also help existing enterprise infrastructure to adapt to the digital age.
Enterprise architecture is important in digital transformation because it provides a holistic view of the entire process. It enables organizations to identify potential challenges and opportunities and develop a roadmap that ensures successful digital transformation.
Digital transformation refers to leveraging digital technologies to transform business models, strategic planning, and operational processes. It involves using emerging technologies, such as artificial intelligence, the Internet of Things (IoT), and cloud computing, to improve efficiency, drive innovation, and create new value propositions.
Enterprise architecture and digital transformation can be integrated to achieve business goals by using the former to develop a roadmap and the latter to implement the initiatives identified in the roadmap. Organizations can achieve their business goals and increase their competitiveness in the digital era by ensuring alignment between the two.
Some examples of successful digital transformations driven by enterprise architecture include the transformation of GE from a traditional manufacturing company to a digital industrial company and McDonald's from a traditional fast-food restaurant chain to a digital-first company that leverages mobile technology and data analytics to improve customer experience.
Portfolio management plays a critical role in digital transformation by enabling organizations to prioritize technology initiatives based on their potential to create business value. Using enterprise architecture principles to develop a technology portfolio, organizations can identify initiatives aligning with the overall business strategy and ensure success in their digital transformation efforts.
Some emerging technologies that can help organizations succeed in digital transformation include artificial intelligence, machine learning, the Internet of Things, cloud computing, blockchain, and augmented reality. By leveraging these technologies, organizations can create new value propositions and improve operational efficiency.
Modern enterprise architects can raise the profile of their role in digital transformation by focusing on business outcomes and using enterprise architecture principles to align technology initiatives with business goals. By demonstrating the value, they drive successful digital transformations; enterprise architects can position themselves as strategic partners to the business and increase their influence and impact.
Overcome digital transformation challenges with Enterprise Architecture
MEGA HOPEX for Enterprise Architecture
Request a demonstration of HOPEX for EA, and see how you can have immediate value of your projects.