How to foster quality of life at work Foosball is not enough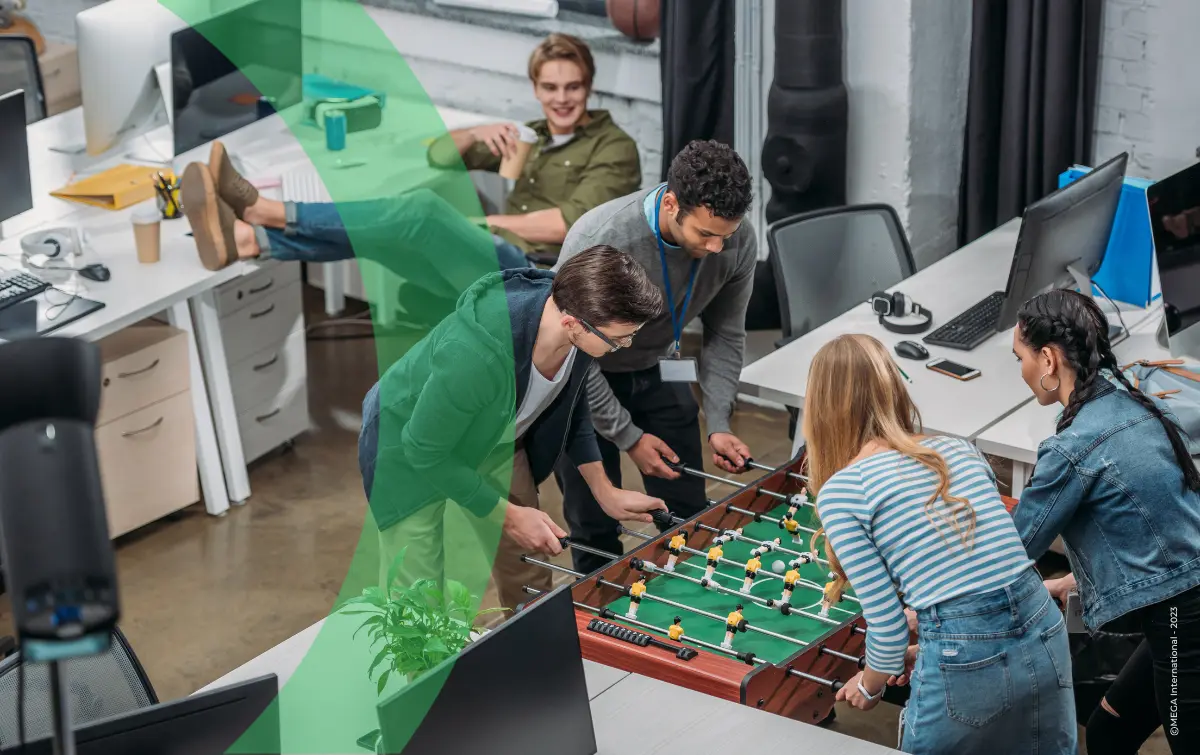 In an evolution that has taken place across several decades, work-life balance has undergone a huge upheaval. The Covid-19 crisis exacerbated this change even further, with the pandemic changing the perception of well-being at work. Because of this, companies must continue to adapt in order to attract and retain the best talent.
Flexibility and trust are key
Offices started as mostly individual, separate spaces. Over time, open-plan layouts then became much more commonplace. Now, perks such as foosball, gyms, complimentary snacks, and rest and recovery areas have become the norm. In just a few decades, office environments have undergone radical changes. Digital transformation and the health crisis have accelerated this development further while reinforcing the need for "meaning at work " and for a better work-life balance.
But flexibility isn't just about allowing staff to telecommute from home or elsewhere, in a fully or partially/hybrid model. First and foremost, flexible working should be a strategy that empowers staff and leaves the choice of where to work with them. If executed correctly, this individual preference can work in perfect harmony with the organization's overall goals. Social ties, family ties, team spirit, and flexible working can all be achieved if the culture is right.
It is also essential to equip each employee at home and to provide efficient collaboration tools. Doing so provides full, secure remote access to the company's core systems outside the office environment, as well as maintaining the bond within teams. 
Finally, workspaces must be redesigned to meet the new challenges of hybrid work; a carefully designed blend of open and shared spaces alongside private meeting rooms that all promote positive interactions and synergies.  
Offices are still the glue of corporate culture
Even a complete teleworking model does not mean physical premises lose their relevance entirely. On the contrary, they remain an essential place for formal and informal meetings to take place. Often, meeting around a table remains the most effective way to move forward on a project, develop new innovations, debate, and to drive the company's objectives forward.
With this in mind, offices and other workspaces have to be transformed to offer a different experience of remote working. Collaborative and communal spaces then become essential – the goal is to entice employees to visit the office regularly. This can be achieved by making workspaces bright and pleasant in order to inspire staff to enjoy the company of their colleagues. The famous foosball, ping pong, or other perks can be used to reinforce this culture!
The art of remote management
For managers, hybrid working has significant consequences, not least the need to redefine the organization of teams, management methods, and protocols. Nurturing a culture of trust, confidence, and autonomy then becomes the key factor for achieving team success.
The culture of feedback must also be emphasized. Conducting regular formal interviews provides a formal channel for listening to employees throughout their career in the company from the initial onboarding phase to when they leave. Regular team calls can also be used to discuss anything from project updates to plans for the weekend.
Well-being at work also requires active management of employees' careers and aspirations. It is essential to accept that employees will leave from time to time. When staff leaves a firm on good terms, they are much more likely to return a few years later with additional experiences and new skills to bring to the table. This is known as "boomerang" employees.   
Training remains an essential pillar of the quality of life at work; investing in it leads to positive gains for the company and the individual. Intergenerational work is also a key factor in fostering new employee skills. Setting up a mentoring and sponsorship system helps to establish a collaborative spirit within a formalized structure. These are all initiatives that can make a big difference and build loyalty among employees who are happy to be supported throughout their professional career.
In short, as popular as they are, table football and base salaries are far from being the only criteria for attracting and retaining the talent your organization needs to progress. Now and in the future, the quality of working life must be the subject of a concrete strategy in the short, medium, and long term. 
Discover how organizations rely on us to transform their IT
Hear More From Companies Like Yours