Optimize and transform your business processes
We provide Business Analysts and Process Owners with business process management (BPM) software that helps organizations understand how they operate and how to optimize and transform business processes for continuous improvements.
Understand where breakdowns occur by connecting business, risk, data, and IT perspectives with a team collaboration tool that enable you to pinpoint where/how problems exist and identify burgeoning issues. Use a customer lens to simulate scenarios and design effective processes that help the organization achieve operational excellence with our BPM tool.

Business process modelling and management software
Understand the efficiency and effectiveness of your operations using an interactive map that shows how the organization and its dependencies function. Generate automatic process diagrams from a table entry and map customers journeys. See what your processes look like in reality using process mining for continuous improvement. Compare process mapped with reality, identify points of inefficiency and simulate various optimization scenarios to improve your business with a customer-centric approach.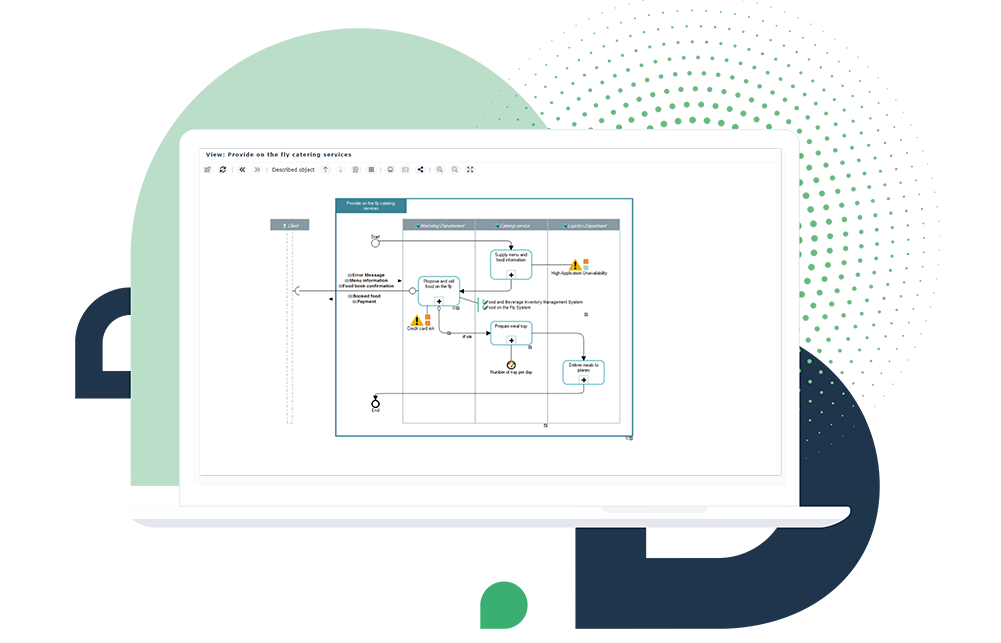 Business process core features
Business Process Design
Streamline the creation of business processes.
Process Simulation
Simulate various optimizations scenarios.
Process Mining
Understand how your processes are really executed using Minit.
Customer Journey Mapping
Improve customer experience by identifying and analyzing the touchpoints.
Risk Mapping
Identify areas of concern and drive compliance initiatives.
MEGA HOPEX Platform for business process management and analysis
Simplify collaboration and ensure alignment, collect, and analyze information, and get actionable insights with a smart, automated, and connected platform.
Smart: Get data-driven insights
Make data-driven decisions, get actionable insights, and share visibility across the organization using a collaborative enterprise portal and mobile apps that increased decision making velocity.
Automated: Accelerate your projects delivery
Accelerate project delivery, minimize time-to-value, and improve productivity using automated process, application, and data discovery and diagram generation.
Connected: Improve collaboration and alignment
Improve collaboration, develop synergies, avoid duplicative efforts, and ensure stakeholder alignment on strategic objectives by connecting strategy, business, IT, data, and risk perspectives on the same platform.